Journal
The 14 Best Restaurants in Bridlington
Nestled on the Yorkshire Coast, Bridlington has been a firm holiday favourite for over a century. Its old town and high street are home to fine dining and family-friendly places, while Bridlington seafront combines good food with cracking views. Here's our list of top restaurants in Bridlington.
Along with fine-dining restaurants and family favourites, Bridlington is also one of the best Yorkshire seaside towns for fish and chips, rivalling places like Scarborough and Whitby – with plenty of places for ice cream afterwards.
Looking for a mouth-watering restaurant? To help you decide, we've created a list of our favourite places to eat in Bridlington… Bon Appetit!
---
The Best Restaurants in Bridlington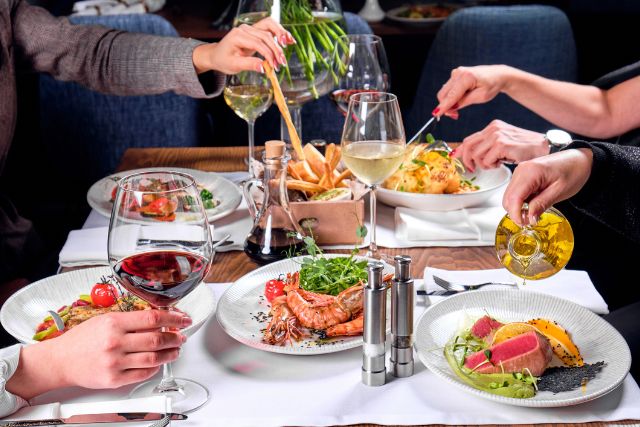 1. Aloha
First on our list is Aloha steakhouse and grill. It's a family-owned, independent business that makes good use of local suppliers and fresh ingredients. Once inside, you'll feel a warm welcome and enjoy great views over South Beach and the sea beyond.
If you're in town for a show or concert at Bridlington Spa, Aloha is literally on its doorstep.
2. Buffalo's
An American-themed restaurant just back from the promenade, Buffalo's is an excellent choice for fans of ribs, burgers and shakes. The friendly staff keep the American hospitality flowing all night – and Buffalo's lunch menu is a quick, good-value option.
3. Burlingtons Restaurant
Burlingtons deal in great food from their a la carte menu. You'll find classics like steak and seafood, and their Sunday lunch has a sterling reputation. Available on Thursdays and Fridays, Burlingtons' early bird menu is very reasonable.
4. Gabbys Chippy
We couldn't list places to eat in Bridlington and not mention the British fast-food classic: fish and chips. Located in Brid Old Town, Gabbys is a small family-run takeaway offering all the chippy classics. It also has fantastic choices for vegan, pescatarian and gluten-free diets.
5. Harbour Fisheries
Looking for fish and chip restaurants in Bridlington harbour? Then Harbour Fisheries has you covered. You can stay or take away, enjoying your chips made the 'Yorkshire way' inside or on the harbourside exterior seating.
6. Leo'z, Brid Promenade
A great option for families, groups and parties is Leo'z. It's set on Brid Promenade, with its extensive menu of restaurant and takeaway classics. Think pizzas, burgers – and a great wine list. If you fancy a night in, Leo'z will also deliver.
7. Little Sicily Italian Restaurant
For a dining experience straight out of Italy, head to Little Sicily on Bridlington seafront. Here, you'll find gorgeous pizza, pasta and risotto, along with kids' options and a great wine selection. You'll also hear about their amazing comeback story from a fire, helped by the local community.
8. Masala Indian Restaurant
If you're looking for an Indian restaurant in Bridlington, why not try Masala? It offers a huge range of delicious Indian and Bangladeshi recipes, all prepared by a skilled kitchen team. Their aromatic spices give the dishes massive flavour, providing you and your family with a meal to remember.
9. Raffles, Bridlington Old Town
Getting lost in the old town is one of the best things to do in Bridlington. On your way through the winding streets, you might bump into Raffles restaurant. Head inside for a small, family-run place with a friendly atmosphere and home-cooked food.
Bridlington is the lobster capital of Europe – so make sure to try one of the Raffles' lobster dishes while you're there.
10. Supattra Thai Restaurant
Another one of the best restaurants in Bridlington for fans of exotic cuisine is Supattra Thai Restaurant. Here, you'll taste excellent food with all sorts of colours and flavours, offering a dining experience that makes the most of Bridlington's fresh seafood.
11. The Lamp Restaurant, Old Town
Deep in Bridlington Old Town, you'll find The Lamp. It's a classic, cosy restaurant, with its grade II listed building lit by Victorian gas lamps and flickering candles. You can also eat al fresco in its courtyard as you sample the seasonal menu.
12. The Wish Cat Cafe
For an early brunch or afternoon bite, head to the Wish Cat Cafe. They specialise in gluten-free homemade food, served on fabulous china plates. You can also return in the evenings to try their bistro menu. Despite the name, the Wish Cat Cafe is also dog friendly.
13. Wiseguys
Fancy Italian food with an international twist? Then head to the Wiseguys New York Italian Restaurant. You'll find everything you'd expect and more – from steaks and burgers to pizza and pasta.
14. Yips Chinese Restaurant
For a delicious Chinese meal, pop into Yips near South Beach. You'll find all the classics, with set menus and special occasions catered for. You'll also learn why Yips Chinese Restaurant was given the TripAdvisor Travellers' Choice Award in 2021.
---
The Best Restaurants near Bridlington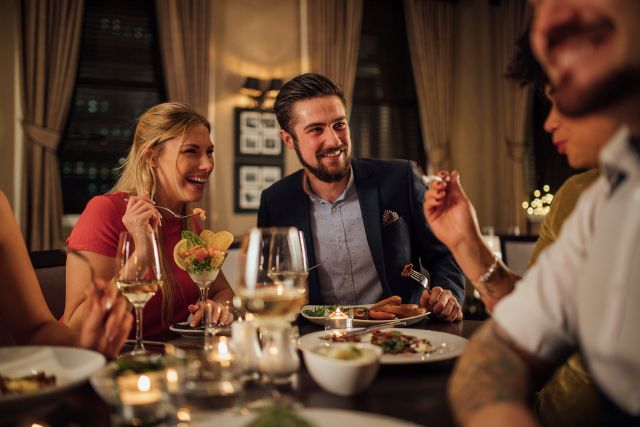 Staying in Brid but feeling adventurous? Head out into the East Riding of Yorkshire to find more fantastic places to eat.
1. Copperfields, Flamborough
For a family-friendly cafe with good food at reasonable prices, try Copperfields. It's in Flamborough, just a few miles from Bridlington. Visitors describe it as like "popping round to your mum's for dinner". What could be better?
2. The Old Forge, Sewerby
Located in nearby Sewerby, the Old Forge bar and restaurant is another great restaurant near Bridlington. You'll get home-cooked food in a relaxed atmosphere, with fantastic sea views. Dogs are welcome outside and in the bar area.
3. The Seabirds, Flamborough
Why not take a trip out to Flamborough for a tremendous Sunday lunch? At the Seabirds Inn, there's also a delicious menu for the rest of the week, all made from local ingredients. Flamborough Head also makes for a great stroll to walk your dinner off afterwards.
4. The White Horse, Bempton
Last but not least is The White Horse in Bempton. This pub restaurant has everything you could want after a clifftop walk – serving classic pub food with a range of ales. To guarantee your table, they always recommend calling ahead.
---
Has our list of the best restaurants in Bridlington tickled your tastebuds? Don't miss out. Browse our range of properties in Bridlington and book your next trip to the Yorkshire coast.