Journal
Sandsend Beach: A Helpful Guide
With a backdrop of glistening waters, rocky cliffs and a mix of sand and shingle, a peaceful adventure on the coast awaits at Sandsend Beach.
Idyllically positioned on the heritage coastline of Yorkshire, Sandsend Beach is a must for anyone looking for a memorable seaside adventure.
Sitting between Runswick Bay and Whitby, Sandsend Beach is perfect for an escape from the hustle and bustle of the busier coastal resorts.
We've compiled a handy guide on complete with everything you need to know about Sandsend Beach ahead of your visit. Continue reading to discover more…
---
Sandsend Beach
Sandsend beach is situated on the coast of North Yorkshire, on the edge of the North York Moors National Park. Made up of a large expanse of sand and shingle, the beach stretches for about a mile from Sandsend to Whitby.
Renowned for its fossil hunting, this Yorkshire beach is popular year-round. Rockpools may be found dotted across the beach, each hiding treasures for little ones and fossil collectors to discover.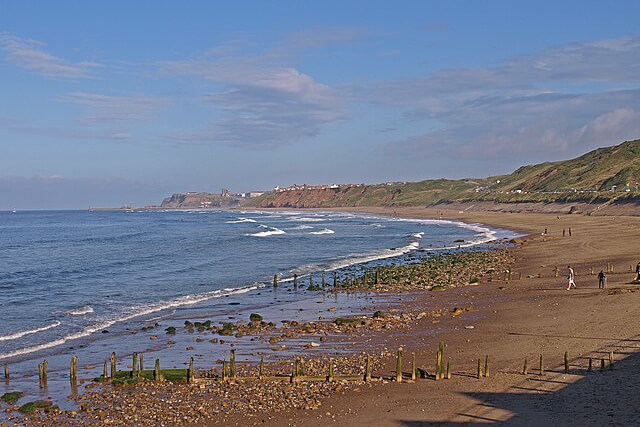 There are fishing opportunities here too, with flounder, dab, bass and mackerel thought to frequent the shallow beach. And of course, plenty of chance to make a splash, build castles, and enjoy an afternoon of family-friendly fun.
Whether you're looking to spend a leisurely day at the beach, cast your line or explore the rocky shores, Sandsend beach is the perfect place.
Type of beach: Sand & Shingle
Dog-friendly: Yes, however there are restrictions in places
Lifeguard: 1st July – 3rd September 10am-6pm. Find details here.
Car Park: Yes
Postcode: YO21 3TG
---
Where is Sandsend beach?
Sandsend Beach sits on the shores of the North Sea, on the edge of the pint-sized fishing village of Sandsend.
This much-loved beach forms part of the North Yorkshire Heritage Coast, sitting between Runswick Bay in the North and the historic town of Whitby in the South.
A peaceful alternative to the busier beaches of North Yorkshire, Sandsend Beach is a must-visit.
---
Is Sandsend beach dog friendly?
Sandsend Beach is dog friendly, however, restrictions do apply in places between the 1st of May and the 30th of September.
The restricted areas are signposted, and there are parts of the beach that your four-legged friends are welcome to enjoy all year round.
The dog friendly part of the beach runs almost all the way to Whitby, so there's plenty of space for furry friends to explore. Alternatively, Runswick Bay in the North welcomes dog without any restrictions.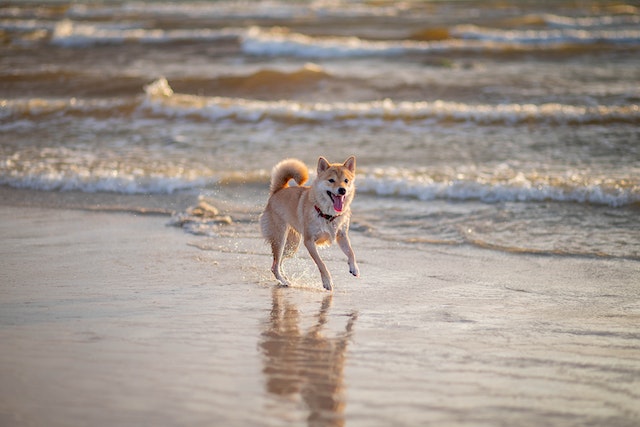 ---
Are there facilities at Sandsend beach?
There are a handful of essential amenities available at Sandsend beach, ensuring visitors can spend a full day enjoying the delights of the shore.
Public toilets can be found opposite Sandsend Surgery on Sandsend Road, across from the beach.
If you're feeling peckish, the Sandsend beach café, Sandside Café, is a must-visit. A family-run beachfront business, this hearty café serves sandwiches, jacket potatoes and toasties, along with a mouth-watering menu of homemade cakes.
If you'd prefer a picnic on the beach, Sandsend Stores is stocked with all the essentials, and The Fish Cottage is available for takeaway. And whilst you're visiting, why not visit Wild Hart Sandsend, a delightful gift shop stocked with keepsakes!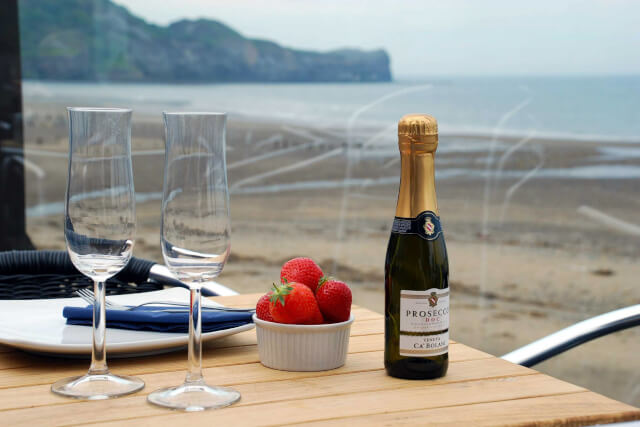 © Sandside Cafe
---
Sandsend beach parking
There is a dedicated pay & display car park available for Sandsend Beach at the beaches northernmost edge. For SatNav purposes, the Sandsend beach postcode is YO21 3TG.
You'll also find roadside parking available along Sandsend Road, directly behind the beach. Charges may apply.
Alternatively, you can park without restrictions or charges in the nearby village of Lythe. From here, you can enjoy a scenic stroll to the beach.
---
The Sandsend to Whitby beach walk
The Sandsend to Whitby beach walk is a truly awe-inspiring way to soak in the spectacular scenery of the North Yorkshire Coast.
Running for approximately three miles, you can follow the clifftop trail or stroll along the sand from Sandsend to Whitby. Lace up your walking boots or feel the waves crash between your toes!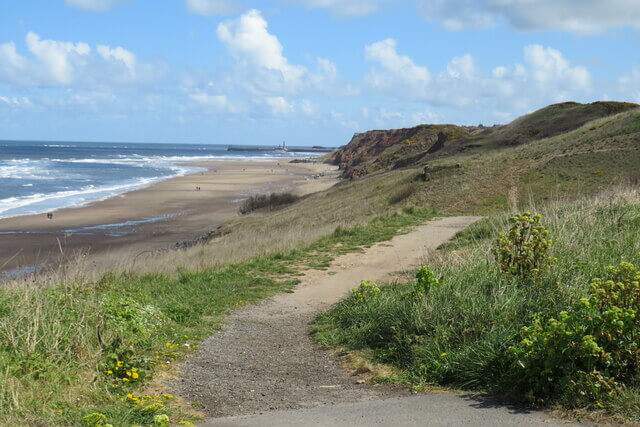 The clifftop route is ideal for those wanting to explore the fascinating history of Whitby. Starting in Sandsend, the trail passes the Captain Cook Monument, Whitby Swing Bridge and the iconic 199 steps before reaching the ruins of Whitby Abbey.
Alternatively, the Sandsend to Whitby beach walk runs along the shores of the North Sea. With the water to your lefthand side you'll walk along the sand, passing Upgang Beach before the colourful huts of West Cliff beach come into view.
Be sure to check the Sandsend beach tide times ahead of your walk to ensure your own safety. We'd also recommend checking the Sandsend beach weather before setting off to ensure you're packed appropriately come rain or shine!
---
Sandsend beach accommodation
There is a wonderful selection of cottages available on Yorkshire Coastal Cottages, all within easy reach of Sandsend beach.
Make the most of your seaside adventure and secure one of these cottages in Sandsend. From here you can explore the coastal delights of this much-loved beach.
---
Excited to embark on a coastal adventure to Sandsend Beach? Find out what else there is to do in this charming fishing village with our guide on things to do in Sandsend.
And this delightful collection of Sandsend beach accommodation puts you within easy reach of countless amenities and attrations.
---
Images courtesy of: wfmillar – (CC BY-SA 2.0); Malc McDonald – (CC BY-SA 2.0);