Journal
5 Must-Visit Castles in Yorkshire
Yorkshire is absolutely steeped in history, so it's no surprise that you'll find plenty of interesting castles throughout this beautiful county. From coastal castles to mighty medieval fortresses, you'll find them all here. In fact, there are around 50 castles in Yorkshire in total, although many of these have become ruins over time.
Planning a visit soon? If you consider yourself to be somewhat of a history buff, you'll probably already be familiar with many of the famous castles in Yorkshire. But if you'd like to find out more about them, take a look at our guide to the best castles in the county…
1. Scarborough Castle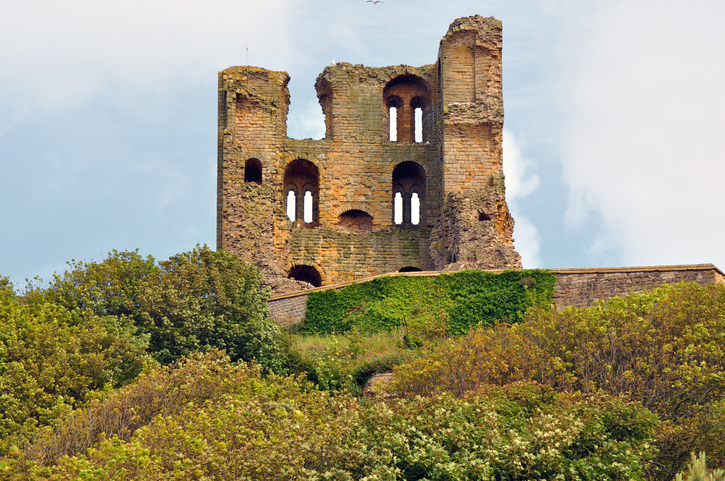 The fortifications for Scarborough Castle were first built during the 1130s, although the history of this area dates back much further. In fact, archaeological finds include a Bronze Age sword which is estimated to date back around 3,000 years. After this, the headland was transformed into a 4th-century Roman signal station, before the  Anglo-Saxons built a chapel on the site.
This is just a quick overview of the changes that took place over the years, although one thing is for certain – there's obviously something incredibly captivating about the location! Perhaps it's the incredible sights across the  North Sea, which would have been a useful defence during war times.
The castle, a popular tourist destination in Scarborough, has stood as a ruin since the English Civil War sieges, although it is still a popular tourist destination. Visitors can hike up to the headland and take the spectacular sea views, while also checking out the remaining battlements from the castle.
There's an interactive exhibition on the site, and special events are often hosted by  English Heritage. Be sure to check what's on before you arrive!
Admission fee: £7.90 for adults, £4.70 for children. Family tickets and student discounts are also available.
Address: Castle Rd, Scarborough YO11 1HY
---
2. Skipton Castle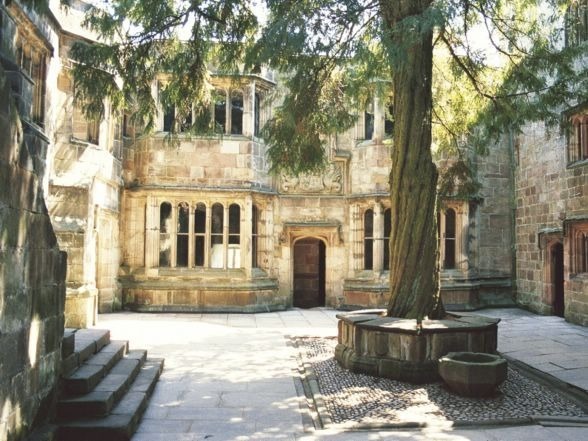 ©Skipton Castle
Skipton Castle is a Grade I Listed medieval castle, boasting over 900 years of history. First built in 1090 by a Norman baron, it has been impeccably preserved throughout the centuries. Initially, it was built with earth and wood although it was transformed into a stone fortress to withhold attacks during the 12th century.
Throughout the English Civil War, it was the only Royalist stronghold in the north of England. After negotiations for surrender in 1645, Oliver Cromwell ordered for the roofs to be removed from the castle – in an effort to reduce its defences. However, it remained as a principal seat for Lord Clifford of Skipton, until 1676.
Since then, it has become a popular tourist attraction – providing a great insight into the history of the local area. One of the best-preserved castles in the whole of England, visitors can walk around its grounds and discover what life what like for both the lords and soldiers who lived in the castle.
You can also wander around the pretty Tudor courtyard, a wonderful spot for a picnic in the summer months. Dogs are allowed on a short lead around the grounds.
Admission fee: £8.90 for adults, £5.70 for children between 5-17, and free for under 5s. Family tickets are also available at a reduced rate.
Address: The Bailey, Skipton BD23 1AW
---
3. Ripley Castle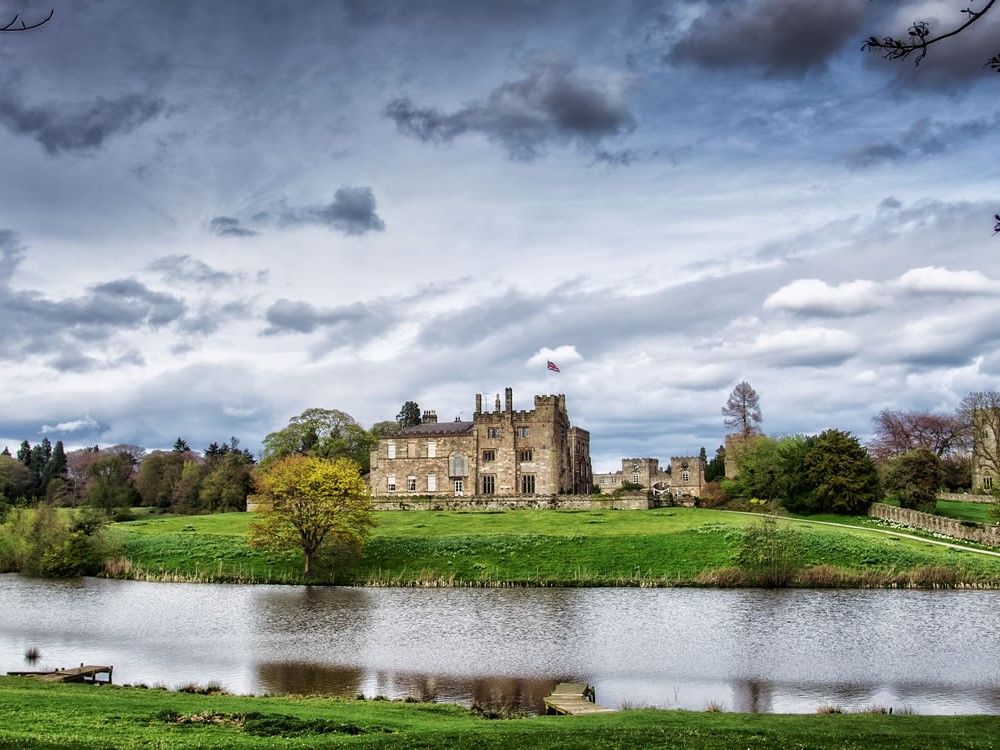 ©Ripley Castle
Yet another Grade I Listed building and one of our favourite castles in Yorkshire, Ripley Castle is a 14th-century country house in the village of Ripley. Just a few miles outside of Harrogate, it's well worth a visit if you're in the area. The estate was acquired as a dowry by Sir Thomas Ingleby, who married an heiress. To this day, it is still owned by the Ingleby family – now the 6th Baronet and his wife.
Ripley Castle has been the setting for various television programs and films over the years, with the most recent filming being the BBC historical drama series, Gunpowder. A fascinating attraction, the castle is open to the public year-round and is even a popular wedding location!
If you're celebrating a special occasion, you can book out the Castle's Dining Room and enjoy fine dining and an excellent wine menu selected by Sir Thomas Ingleby himself. If you're just visiting for the day, you can try out some interesting activities including archery, bushcraft, and body zorbing.
For those who would rather immerse themselves in the history of the castle, you can spend the day wandering the gardens and grounds of this historic site.
Admission fee: £5 for adults, free of charge for children of all ages.
Address: Ripley, Harrogate HG3 3AY
---
4. Richmond Castle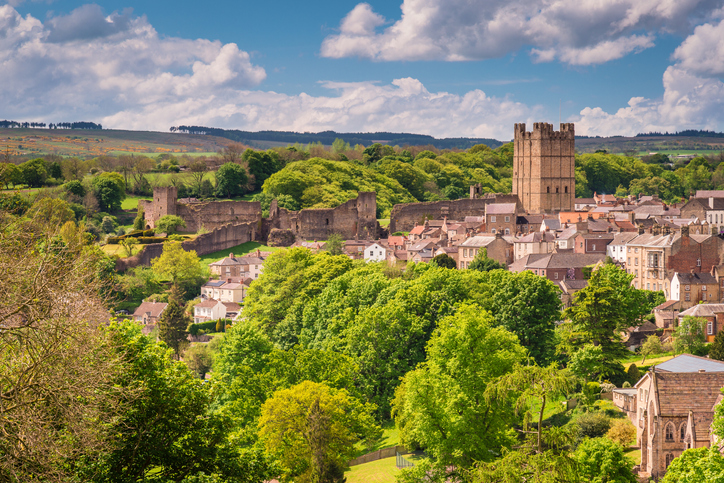 Set above the River Swale, Richmond Castle dates all the way back to 1071. While there's no specific date for when the castle was completed, there is mention of a castlery in the renowned Domesday Book of 1086. During the 12th century, the castle was taken over and expanded by the nephew of Alan Rufus, the Breton nobleman who first commissioned its construction.
At the end of the 12th century, Richmond Castle was seized by Henry II of England. It was maintained by Henry III and King Edward I up until the 14th century, at which point it was no longer used as a fortress. The castle was derelict by 1540, and it took a few centuries before it was restored to its former glory. Legend has it that King Arthur and his knights were found sleeping in a cave underneath the castle!
Considered to be one of the best examples of early Norman castles, it is one of the most popular castle attractions in the county. Boasting spectacular views across the Yorkshire Dales, visitors can enjoy an interactive exhibition as well as a stroll through the grounds, gardens, and the castle itself.
Live events occur throughout the year, as well as a permanent exhibition on the lives of those who once lived in the castle.
Admission fee: £7.60 for adults and £4.60 for children between 5-17. Family tickets are also available at a reduced rate.
Address: Tower St., Richmond DL10 4QW
---
5. Knaresborough Castle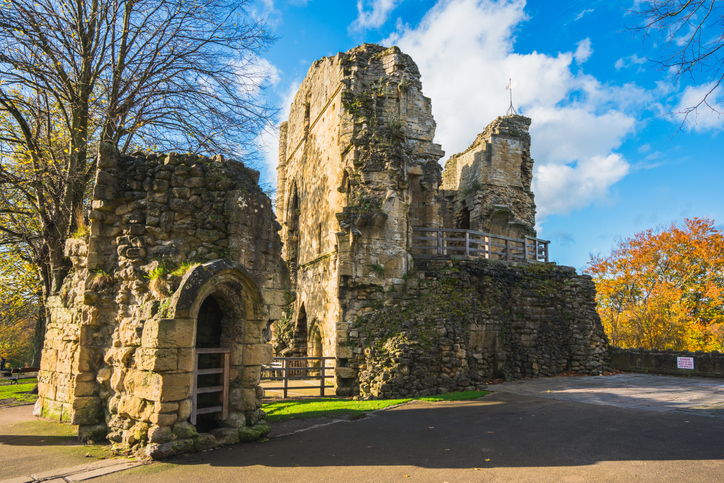 A once-mighty fortress that overlooked the River Nidd, the remains of Knaresborough Castle are an important part of Yorkshire's history. It's estimated that the castle was first built by a Norman baron around 1100, with improvements being made during 1130 by Henry I.
Between 1307 and 1312, the castle was completely rebuilt for a sum of £2,174. It later became a royal residence, with Philippa of Hainault spending many of her summers there as the Queen of England. It remained this way until the English Civil War, where it was largely destroyed as a result of an order from Parliament.
Despite only being the remains of the castle, Knaresborough Castle is still a popular tourist spot and popular castle in Yorkshire. The grounds are now used as a leisure space, with a bowling green and a space for live music events. The castle is also renowned for its ravens and crows, some of which have even been famously filmed calling out to visitors – "Y'alright love?".
Admission fee: £3.50 for adults and £2.00 for children.
Address: Castle Yard, Knaresborough HG5 8AS
---
If you're looking for some more interesting Yorkshire attractions, why not check out these beautiful National Trust Properties in Yorkshire. From glorious gardens to buildings steeped with history, there's something for the whole family to enjoy!
Why not discover these incredible Yorkshire castles for yourself? Our lovely holiday cottages in Yorkshire offer all you need for a weekend of adventure.
From family-friendly boltholes to romantic cottages for two, you'll find just what you're looking for with our handpicked selection of holiday homes. Take a look and start planning your next break away today!