Journal
10 Popular Pubs in Robin Hood's Bay
Famed for its small fishing ports and sprawling beaches, Robin Hood's Bay is one of the most popular places to visit in North Yorkshire. But far from the gorgeous views and the tempting ice creams, Robin Hood's Bay is also home to a selection of good old-fashioned public houses.
There are plenty of pubs in Robin Hood's Bay for you to enjoy. From cosy pubs with a warming winter fire to popular spots with a beer garden, ideal for those summer months.
Some of the best pubs in North Yorkshire can be found right here in this bay just below Whitby. To make the most of your trip, check out our list of the best pubs in Robin Hood's Bay…
---
Smugglers Ale House
In the heart of Robin Hood's Bay beach lies the Smugglers Ale House – one of the cosiest pubs in Robin Hood's Bay, Yorkshire. Sit on the dock of the bay and kick back with a pint of real ale as you gaze out onto the seafront. The pub features a fireplace, plus both indoor and outdoor seating, and a range of food and drink options.
Make your way through their catalogue of ales including Abbey Blonde and Pirate's Treasure. When you're done, don't forget to soak it all up with a stone-baked pizza, made fresh in the on-site oven. You can even take a pizza away, great for chilling out in your holiday home.
---
The Laurel Inn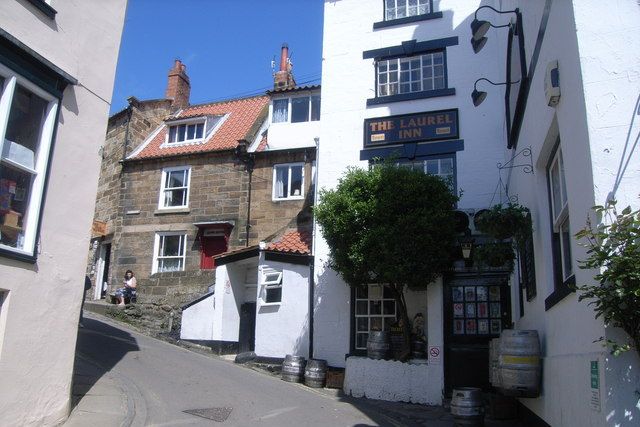 This charming local inn has perhaps one of the proudest accolades in Whitby – it is the smallest pub in Robin Hood's Bay! Located halfway down the bank, it's a popular pub among younger locals, but a great place to stop in if you can time it right. Pull up a pew and enjoy a pint with two regularly changing beers, plus their fan favourite Theakston Old Peculier.
---
The Cove
Not just a pub but one of Whitby's best-known wedding venues, The Cove is an exquisite café bar and wedding chapel all in one. It was even recognised in The Telegraph as one of the best venues for seaside views. Whether you're walking down the aisle or walking in from the Whitby to Robin Hood's Bay coastal route, you'll be given a warm welcome at The Cove.
Dive into a range of pub classics, plus gluten-free and vegan options, and a stunning artisan pizza menu. When the view looks this good, the food is just an added bonus.
---
Wayfarer Bistro
If you love to reward yourself with a pint of Yorkshire refreshment after a long walk, head to the Wayfarer Bistro. Located right at the top of Robin Hood's Bay, the Wayfarer Bistro offers a regularly changing menu, including locally sourced meats and seafood.
Bring your significant other and tuck into the Sunday Special 'Steak and Bake' – it's not to be missed. You can enjoy a bite to eat on Thursdays, Fridays, Saturdays and Sundays from 6pm. This one's so popular, it's been voted the best pub in Robin Hood's Bay on TripAdvisor.
---
Fylingdales Inn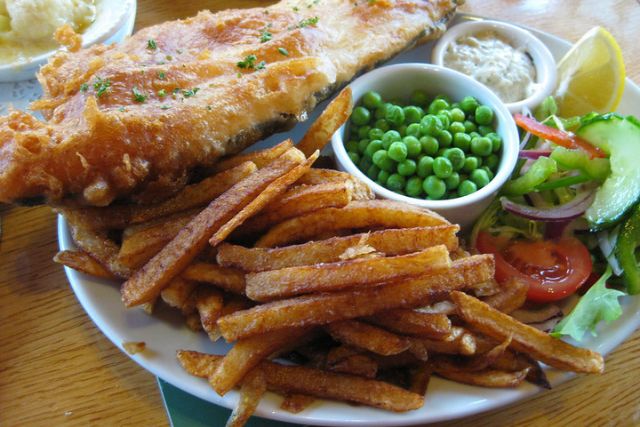 Just a nine-minute drive from the famous Boggle Hole (one of our favourite things to do in Robin Hood's Bay!), the Fylingdales Inn provides the perfect retreat for those who've spent a day exploring the rocky clifftops. This traditional country inn serves food from midday onwards, including hearty Yorkshire pies, burgers, and of course, Whitby scampi. There's also a huge selection of real ales, bottled and draught beers.
The pub loves to entertain, with many of its themed evenings centred around food. Join in for steak and wine nights and burger nights, or rock up for Valentine's Day and New Year's Eve. This family-run pub is open to all, including children and dogs in the downstairs area.
---
The Hare & Hounds
Based in the village of Hawsker, The Hare and Hounds is one of the locals' favourite pubs near Robin Hood's Bay. The pub is perfectly positioned on the Cleveland Way, ideal for stopping in after a hard day's trekking.
All dishes feature locally sourced produce, offering a classic pub menu with a contemporary twist. Enjoy beer-battered fish and chips or gooey desserts – either indoors or outside in the beer garden. As a dog-friendly pub, it's the perfect retreat for walkers and motorists alike.
---
Brambles Bistro
Another friendly pub found right in the heart of Robin Hood's Bay, The Brambles Bistro serves a vast range of dishes suitable for all tastes. Each day, fresh fish arrives from Whitby market, and all meats and breads are also locally sourced.
Whether it's a coffee, steak or a good old-fashioned pint of Yorkshire ale, you can't go wrong at the Brambles Bistro. Food is served from brunchtime onwards, great for catching up as you look out over the Yorkshire horizon.
---
The Windmill Inn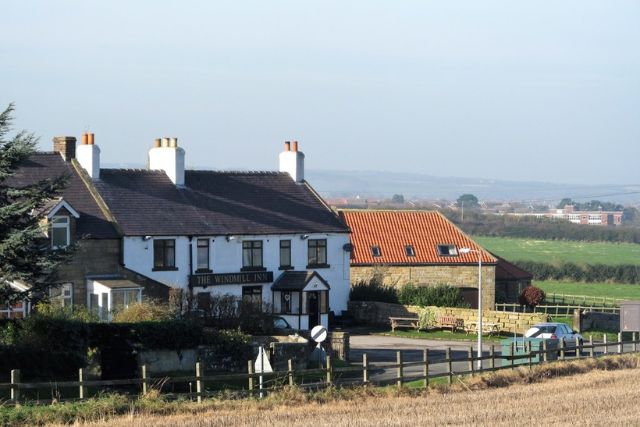 Based in Whitby, The Windmill Inn is the prime location for a few light bevvies after visiting the town's many festivals. Here you'll find a huge selection of branded bitters, lagers and ciders, always with at least two cask ales available. There's also a changing local ale menu so remember to pop back often, or just relax with a glass of wine.
You'll also find a beer garden with a large children's play area, which is totally dog friendly. Plus, children aren't the only ones who can play. There's free WiFi, a dartboard and a pool table, so get competitive before you tuck into a hearty Yorkshire meal.
---
The Plough Inn
Another one of our favourite pubs near Robin Hood's Bay, The Plough Inn is located in Scalby. It's also near the seaside town of Scarborough if you feel like beach-hopping while visiting. Enjoy fresh catch of the day fish or a locally sourced leg of lamb. This village pub is dog-friendly with a charming tartan aesthetic – and there are even picnic tables to enjoy with the whole family.
---
The Endeavour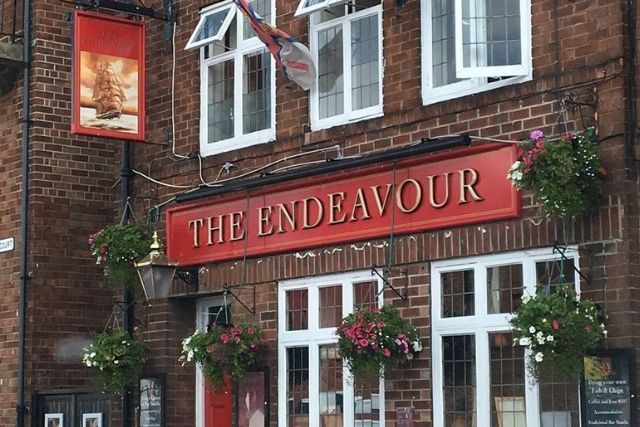 You might have spotted The Endeavour on our list of the best pubs in North Yorkshire – and for good reason! Based in Whitby, The Endeavour serves a range of Yorkshire ales, with a little continental twist. Sample tapas platters or locally sourced crab, all in the comfort of a cosy lounge and fireplace. You can even bring your own fish and chips here to enjoy, so round off the seaside experience in style.
---
Has our list of pubs in Robin Hood's Bay got you feeling thirsty? Treat yourself to a pint before retreating back to our selection of holiday cottages in Robin Hood's Bay.