Journal
7 Best Pubs in North Yorkshire
If you're heading to "God's Own Country" this year, be sure to check out these delicious pubs in North Yorkshire.
The North York Moors is home to picturesque moorlands, deep forests and idyllic coasts. Not forgetting some of the best country pubs in the UK.
So, if you're looking for some hearty grub after taking on one of these walks in North Yorkshire or visiting one of our favourite Yorkshire beaches, then you're in luck!
Keep reading to discover some of the best country pubs in North Yorkshire…
---
1. The Birch Hall Inn, Beck Hole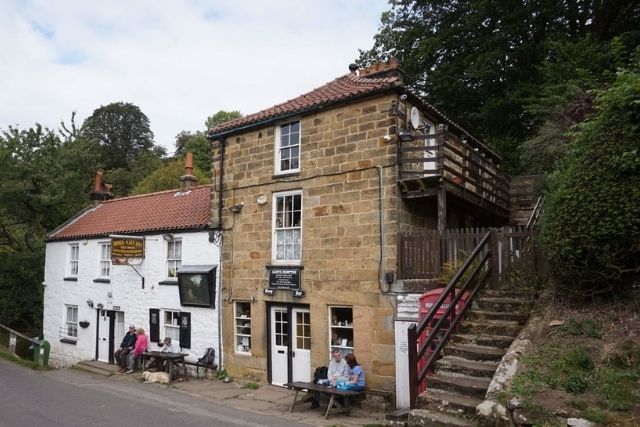 Walk through the door of The Birch Hall Inn and you'll immediately feel as though you've stepped back in time. This tiny pub in North Yorkshire is a Grade II listed building with just two small rooms on either side of a tiny village shop.
This olde worlde pub is a hidden gem in the North York Moors and can be found just 10 miles south of Whitby.
Serving an excellent choice of beers, the pub also has a fantastic range of homemade scones, pies and their famous beer cake. What's not to love?
---
2. The Endeavour Pub, Whitby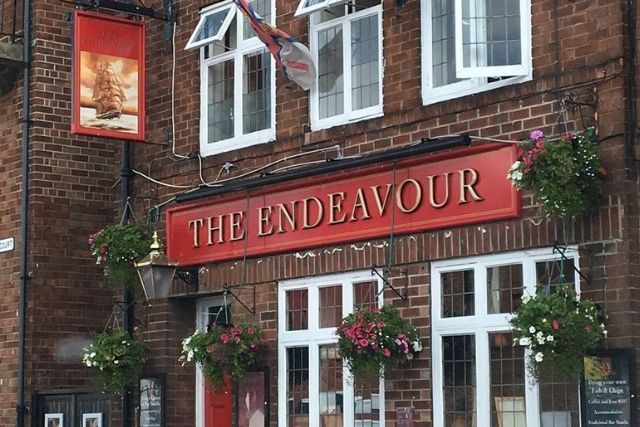 As one our favourite traditional pubs in Whitby; The Endeavour is a local favourite, welcoming friends, families and even your loveable pooch.
Cosy up in front of the fire on a cold winter's day or enjoy a refreshing G&T after a summer's walk on the beach. As one of the most popular places to stay in Yorkshire, Whitby is a welcoming seaside town perfect for a family holiday.
Feeling hungry? The Endeavour has a "bring your own Fish and Chips" policy – so you can enjoy some local seafood along with your favourite pint. There are plenty of delicious fish and chip restaurants in Whitby to choose from.
---
3. The Moors Inn, Appleton-Le-Moors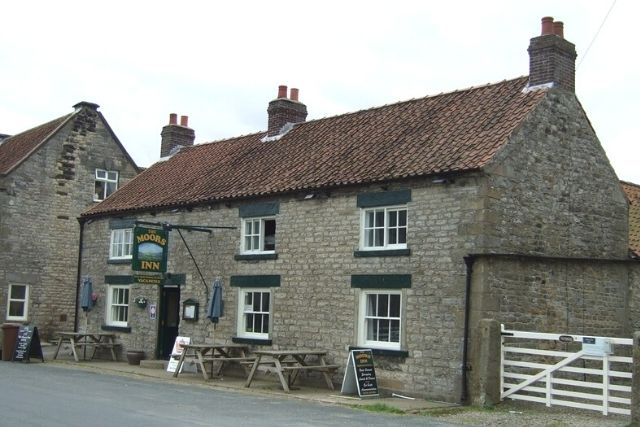 A timeless pub, in the heart of the North Yorkshire Moors, The Moors Inn is a dog-friendly pub with a traditional bar area and cosy open fire.
Trading since the 17th century, this traditional Yorkshire pub boasts a newly refurbished snug area, several bar areas and the main dining room.
You'll be spoilt for choice from their extensive menu. Choose from the classic Moors Inn Beef Burger or Lamb Shank and then wash it all down with a refreshing glass of wine or local beer. Delicious!
Discover more dog-friendly pubs near Whitby here.
---
4. The Fox and Hounds, Ainthorpe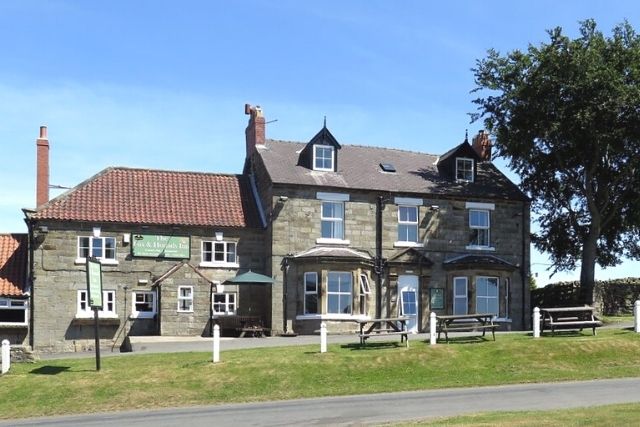 The Fox and Hounds is a country inn set amongst the rolling hills of the North York Moors.
Serving locally sourced seasonal produce, with daily-changing specials, The Fox and Hounds can be found in the charming village of Ainthorpe.
This popular pub in the North York Moors is well worth the visit if you are staying in Whitby or Scarborough. Enjoy the delights of a classic Steak and Ale Pie or a Burger with local Yorkshire Blue cheese.
Looking to explore Yorkshire on two wheels? The pub is conveniently located just 2 miles from the Yorkshire Cycle Hub, where you can hire bikes and explore the spectacular trails of North Yorkshire.
---
5. The Lion Inn, Blakey Ridge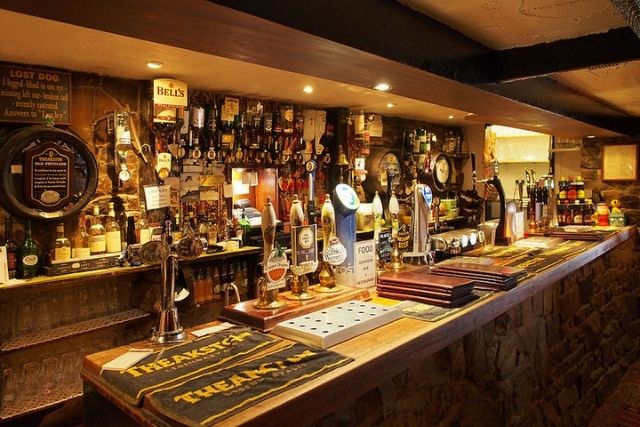 Described by the Guardian as the "best pub in the North York Moors", The Lion Inn is located at the highest point of the National Park – offering breathtaking views across Rosedale and Farndale.
With low beamed ceilings and open fires, this North Yorkshire pub offers a cosy retreat.
Enjoy a hearty Sunday lunch after a morning walk along the Yorkshire Coast or an intimate dinner in one of the three candlelit dining rooms.
---
6. The Horseshoe Inn, Levisham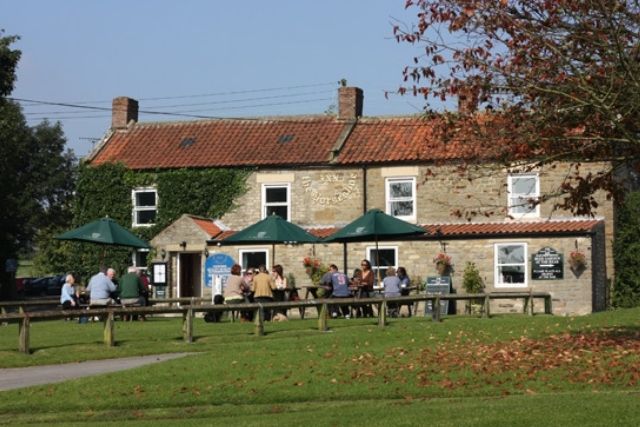 The Horsehoe Inn is a family-run establishment, nestled in the village of Levisham; a peaceful village in the heart of the North York Moors.
A 16th century Inn, boasting a roaring log fire and a hearty, seasonal menu.
Taste the delights of their locally sourced menu after a day exploring Dalby Forest or the North Yorkshire Moors Railway, one of our favourite things to do in Yorkshire.
---
7. The Middleton Arms, Pickering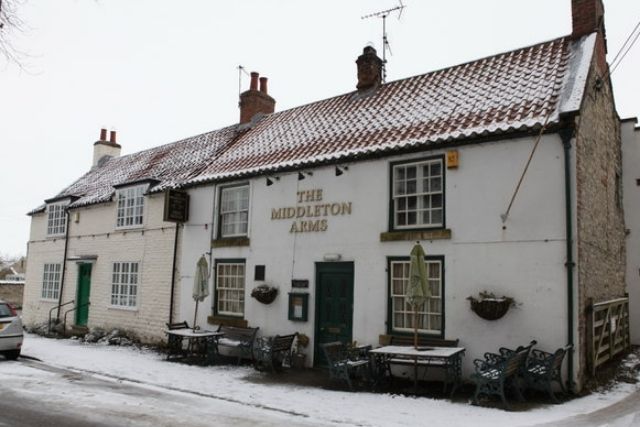 Home to a traditional cosy interior (we love the double-sided log burner) and a friendly atmosphere, The Middleton Arms offers a fantastic range of pub classics.
If you're exploring the moors with your four-legged friend, then you'll be please to know The Middleton Arms is a much-loved dog-friendly pub in North Yorkshire.
Choose from a perfectly cooked meat pie, a traditional roast dinner or maybe even an apple crumble with a proper Yorkshire brew! Whatever you fancy, you won't be disappointed.
---
Have these heart-warming country pubs in North Yorkshire inspired you to visit this wonderful part of the UK? Browse our selection of holiday cottages in Yorkshire, from cosy dog-friendly accommodation to romantic getaways along the Yorkshire Coast.
---
Image Credits: Ian S, Andrew Curtis, Peter Church, Michael Jagger and JThomas (CC BY-SA 2.0) and Kreuzshnabel (CC BY-SA 3.0)