Journal
15 Things to do in Yorkshire
Looking for things to do in Yorkshire? From ancient monuments to beautiful botanic gardens, you're bound to find something to do during your stay. 
To help you plan the perfect itinerary, we've shared our top 15 things to do in Yorkshire. Whether you're staying by the coast or heading inland to enjoy the beauty of the Yorkshire Dales, there are so many things to see – a weekend simply isn't enough to enjoy it all!
1. Visit the iconic York Minster
Location: York
The impressive York Minster has towered over the city of York since the 7th century and still offers daily prayer services to this day. One of the largest cathedrals in the whole of Northern Europe, and has become one of Yorkshire's most famous attractions. The first recorded church on the site of York Minster goes all the way back to the year 627 – although this was just a small wooden structure so it wouldn't be quite as impressive as what we have now!
As you stroll through its mighty halls, you'll get to learn about the history and making of this iconic cathedral.
Interested in the local history? Check out these impressive castles in Yorkshire from the mighty Scarborough Castle to the romantic ruins of Knaresborough Castle.
---
2. Enjoy a traditional train ride on the North Yorkshire Moors Railway
Location: North York Moors National Park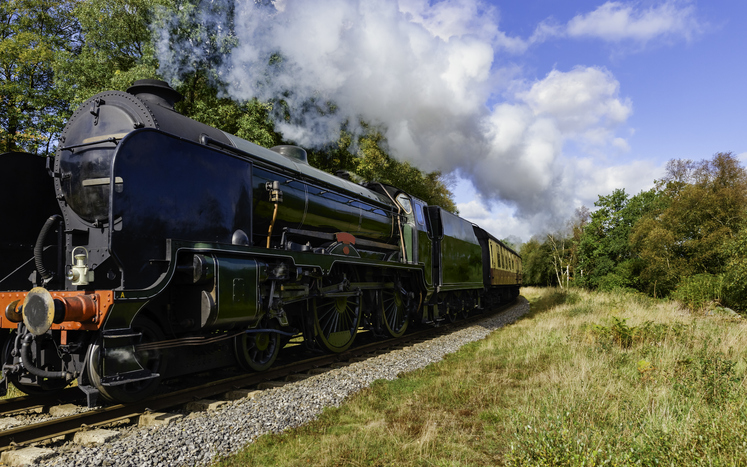 If you'd like to experience the awe-inspiring sights of the North York Moors in comfort, we'd highly recommend a journey along the North Yorkshire Moors Railway! This historic railway dates all the way back to 1832 when the Whitby & Pickering Railway was built in order to keep trade and tourism alive in the town of Whitby. Nowadays, visitors can take a journey back in time and enjoy a day out on a classic steam locomotive.
The trains run between Pickering and Whitby and offer spectacular views of the surrounding countryside. Visitors can even enjoy an afternoon tea or a three-course lunch on the Pullman Dining Train! Or why not experience The Santa Special, one of our favourite Christmas events in Yorkshire. If you're looking for something to do in Yorkshire for the whole family to enjoy, a traditional train ride is a perfect solution.
---
3. Embrace your inner Viking at the JORVIK Centre
Location: York
Between 1976 and 1981, the York Archaeological Trust unveiled houses and workshops from the Viking age city of Jorvik – dating back 1,000 years. The site was transformed into the JORVIK Centre, offering visitors an insight into what life was like for those in 10th century York. It's a great day out for all ages, and especially for families. Visitors are taken through part of the exhibit on a ride, where you'll get to experience the sights, sounds, and even smells of the past.
To make sure you grab a space, it's best to pre-book before you arrive.
---
4. Spend an afternoon in Whitby
Location: Whitby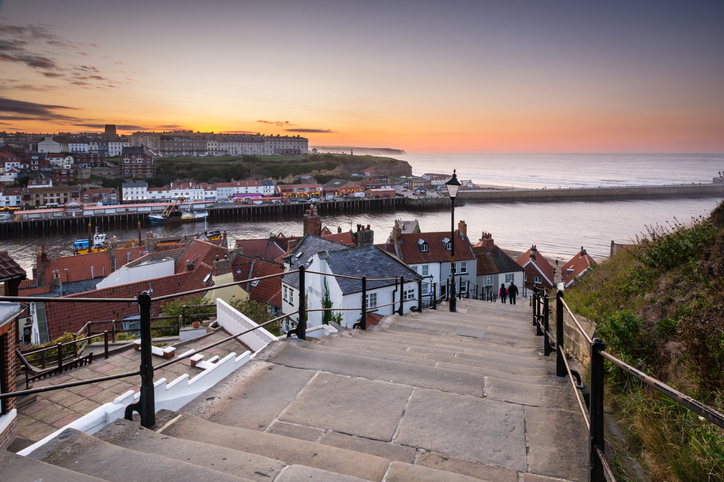 The coastal town of Whitby offers something for everyone. Whether you're planning a trip to one of Yorkshire's best beaches or perhaps looking to browse the many independent shops and bars in the town, there are plenty of things to do in Whitby – whatever the weather might be doing! As well as its bustling pier, you'll also find plenty of interesting museums and monuments – from the Captain Cook Memorial Museum to Whitby Cathedral.
If you'd like to do something a little different, why not enjoy a boat tour from the harbour? You might even be able to spot some whales in the distance!
---
5. Go on safari at the Yorkshire Wildlife Park
Location: Auckley
The Yorkshire Wildlife Park is a great choice for families and a popular Yorkshire attraction. Rated as the UK's number one walkthrough wildlife adventure, you'll get the chance to see an array of exotic animals – from cheeky meerkats to the resident tigers. Visitors also have the opportunity to feed the animals, as well as listen to interesting talks from the keepers. The park prides itself on being a centre of conservation and welfare, working closely with charities.
If the kids still aren't tired out after seeing all the animals, there's a choice of outdoor play areas for them to let off steam.
---
6. Spend an afternoon at the RHS Garden Harlow Carr
Location: Harrogate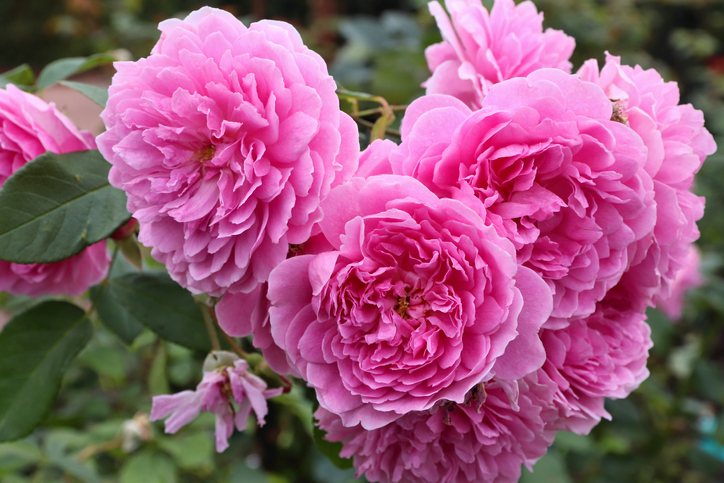 The beautifully designed gardens of Harlow Carr are well worth a visit if you'll be staying near Harrogate. With over 58 acres to stroll through, it's easy to spend a whole day here without even realising it! An absolute haven for keen gardeners and botanists, you'll find plenty of inspiration to take back to your own garden. From the vibrant hues of the Old Bath House terraces to the soothing Streamside Garden, it's an absolute delight to walk around in all seasons.
You can also pre-book workshops before your arrival – from learning how to make bouquets to expert demonstrations on beekeeping, there's always an excellent choice of courses here.
---
7. Learn something new at Eureka! The National Children's Museum
Location: Halifax
Learning doesn't have to be boring. Eureka! is a unique museum in Halifax, aimed at children between 0-11 years. With a whole host of interactive exhibits set across six zones, there's plenty to keep the kids entertained for the whole day. From finding out how music is made to learning about the human body, it's a great way for them to learn about the world around them without having to be stuck in a classroom!
All visits need to be pre-booked before arriving, so be sure to get your tickets online.
---
8. Sample some mouthwatering treats at York's Chocolate Story
Location: York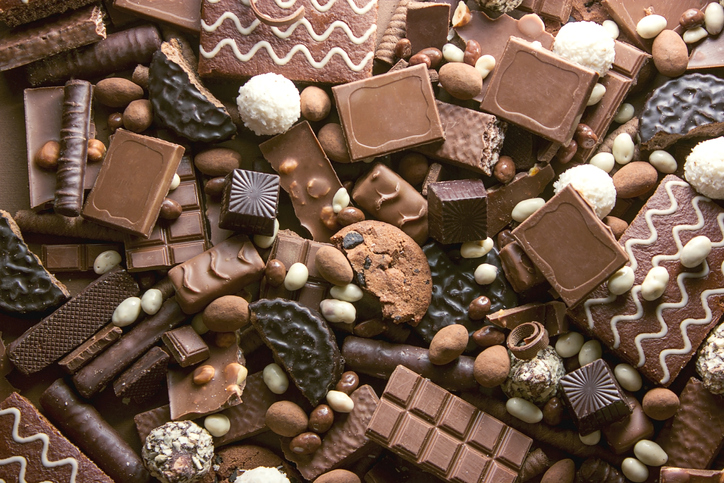 Step into York's Chocolate Story and you'll be greeted by the sweet scent of chocolate wafting through the air – always a good start to a guided tour. Along the tour, you'll discover the history of Yorkshire's finest chocolate makers while also learning the art and secrets of talented chocolatiers. With three floors of interactive exhibitions, it's an interesting day out for all ages.
We can't guarantee that you won't walk out with a bag full of their tasty treats after spending an afternoon there though!
---
9. Enjoy a picnic in Roundhay Park
Location: Leeds
Covering over 700 acres of parkland, Roundhay Park is one of the biggest city parks in the whole of Europe. Second, only to Kew Gardens, the park is also home to a huge collection of exotic plants in its Tropical World – visitors can stroll around the vibrant displays before heading into the cafe for a well-earned coffee.
Whether you're looking for somewhere scenic to enjoy a good walk or perhaps to enjoy a tasty picnic, Roundhay Park is the perfect free day out in Yorkshire for sunny afternoons.
---
10. Take a walk along the Ribblehead Viaduct
Location: Skipton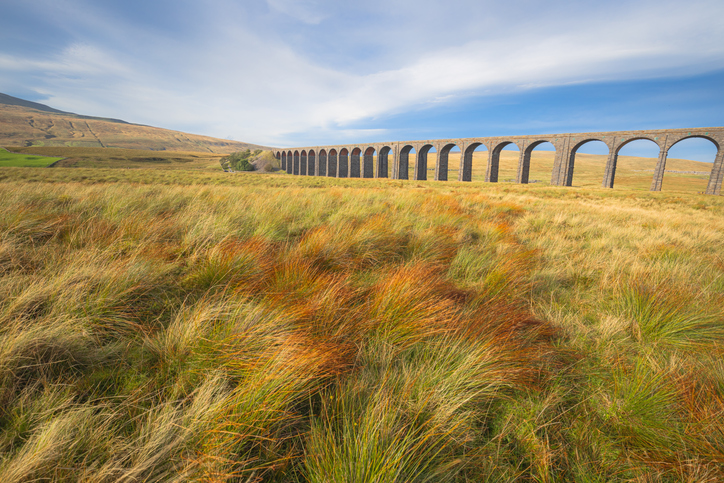 Just a short stroll from Ribblehead station, the Ribblehead Viaduct runs all the way from Skipton to the southeast of Kendal in Cumbria. It's become something of a landmark for both counties and has been featured in a number of television series and films throughout the years.
You can find a whole host of scenic walks in North Yorkshire, with plenty of footpaths through the charming countryside.
---
11. Check out the classic art at the Millennium Gallery
Location: Sheffield
If you love visiting art galleries on your holidays, be sure to make a visit to the Millenium Gallery in Sheffield. Home to an eclectic collection of local art pieces, interesting archaeological finds, and natural history pieces, there's so much to see here.
The museum hosts a variety of workshops throughout the year, from life drawing classes to nature walks in the local area.
Photography lovers should also head to The North Yorkshire Gallery in Whitby for a taste of world-class photography. The gallery features an extensive collection of photographs taken in and around North Yorkshire.
---
12. Soak up the views from Roseberry Topping
Location: Great Ayton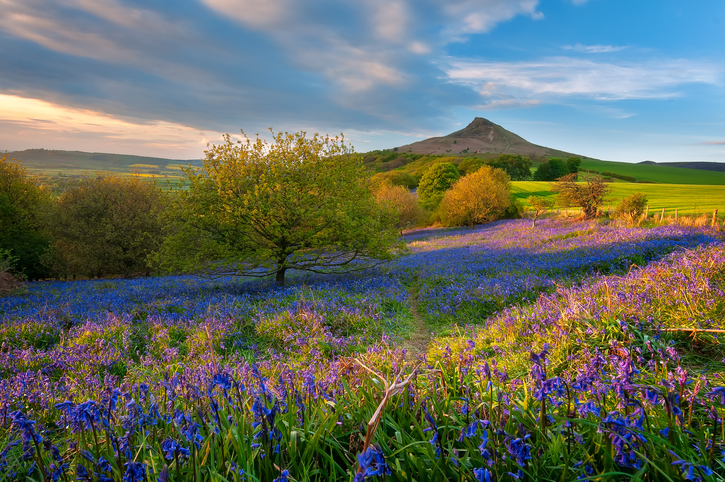 Take a scenic walk to the top of Roseberry Topping – a famous hill close to the village of Great Ayton. Interestingly, it's said that the British explorer, Captain Cook, acquired his taste for adventure while exploring the hill as a child. This distinctive-looking hill is great for an afternoon walk, especially in the spring and summer months when the surrounding woodlands and meadows are in full-bloom.
It should only take around an hour to reach the top, but it's quite a steep trek!
---
13. Don a hard hat and explore the Stump Cross Caverns
Location: Nidderdale
A natural limestone cave system stretching between the towns of Wharfedale and Nidderdale, the Stump Cross Caverns can be explored by visitors as they learn more about the ancient history of the caves. Originally discovered in 1860, these unique caves date back hundreds of millions of years – prehistoric animal remains have even been found within.
Be sure to wrap up warm before heading down into the caves – it's usually only around 7 degrees in there!
---
14. Take a walk down Shambles
Location: York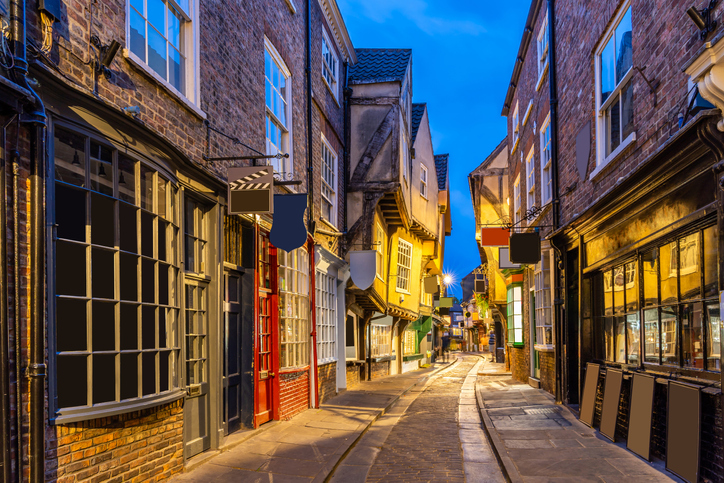 Shambles is an excellently preserved Medieval shopping street in York, with many of the shops retaining their original features. What was once a street for the local butchers to sell their wares, it has since been transformed into a hub for quirky cafes and boutique shops. Some say that the street was the inspiration for Diagon Alley in the Harry Potter series – and once you've seen it for yourself, it's easy to see why.
From homemade fudge to local crafts, there's plenty of interesting shops to discover here.
---
15. Get some great photos of the Aysgarth Falls
Location: Yorkshire Dales National Park
The Aysgarth Falls are a series of waterfalls, carved out on the River Ure. Surrounded by enchanting woodlands and rolling countryside, they're a popular visitor attraction in Yorkshire for those staying in the Dales. In fact, these Yorkshire waterfalls have been attracting and inspiring visitors for over 200 years – including the famed poet William Wordsworth who was impressed by their natural beauty.
You'll find a car park nearby if you don't feel like a long walk, but for those that do, there's an abundance of scenic routes to enjoy in the local area.
There are so many incredible things to do in Yorkshire! Whether you're looking for a family-friendly bolthole or perhaps a cosy retreat for two, there's something for everyone here at Yorkshire Coastal Cottages.
Or check out these fascinating facts about Yorkshire, for more information about this popular county.