Journal
What is Yorkshire Famous For?
Known as "God's own country", Yorkshire is home to rolling hills, majestic moors, historic cities and loveable villages. Aside from its natural beauty and friendly market towns, what is Yorkshire famous for?
Yorkshire: "God's Own Country"
Yorkshire is the largest county in the United Kingdom, home to miles of unspoilt countryside. In fact, you'll find the Yorkshire Dales, North Yorkshire Moors and Peak District National Parks situated in this gorgeous county. Yorkshire is also famous for its charming coast and vibrant coastal towns including Whitby, Runswick Bay, Scarborough, Staithes and Filey.
Symbolic of Yorkshire is the White Rose, the emblem of the English Royal House of York. The white rose traditionally represents purity and innocence, but to those who live in Yorkshire, it means home. Furthermore, the county hosts a special celebration every year – Yorkshire Day, which is celebrated on 1 August. A chance for the county to come together and celebrate all things Yorkshire!
So, what else is the stunning county of Yorkshire Famous for?
---
14 Things Yorkshire Gave The World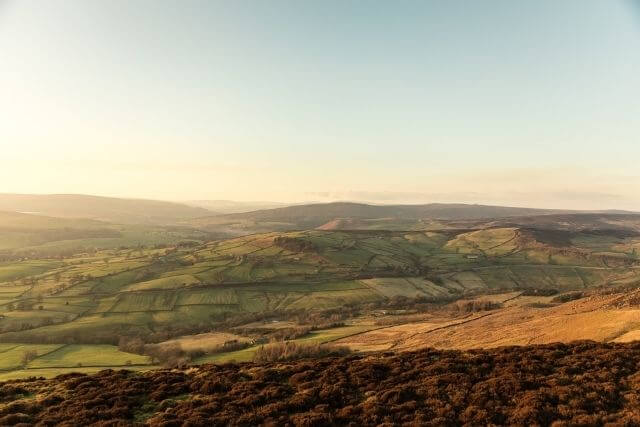 1. The Yorkshire Three Peaks
The Yorkshire Three Peaks of Pen-y-Ghent, Whernside and Ingleborough are some of the best-known hills in the Yorkshire Dales. Every year, thousands of challengers attempt to conquer all three peaks within 12 hours, known as the Yorkshire 3 Peaks Challenge. Looking for a Yorkshire hike? Check out these stunning walks in North Yorkshire.
2. Yorkshire Tea
One of the most iconic tea brands in the world, Yorkshire Tea was founded in 1886 by Taylors of Harrogate, a third-generation family business. Back in 1886, a man named Charles Taylor and his two sons set up tea and coffee kiosks in towns around Yorkshire. Today, Taylors of Harrogate has a few hundred employees, with a whole bunch of teas and infusions, with Yorkshire Tea (of course) being the most popular.
3. The Brontë Family
The Brontë sisters are world-famous for being literature's most interesting family. Charlotte, Emily and Anne Brontë were three Victorian authors, born in the village of Thornton. Charlotte's Jayne Eyre was the first known success, while Emily's Wuthering Heights was later accepted as a literary masterpiece. The birthplace of the Brontë family and the parsonage at Haworth, where they settled later, both welcome thousands of visitors each year. Check out more facts about Yorkshire here.

4. The Yorkshire Pudding
Probably the first thing you think of when asked "what is Yorkshire famous for?" … is the classic Yorkshire Pudding! The first recorded recipe was written in 1737 and is now a popular staple of the British Sunday lunch. Hundreds of years ago, cooks in the North of England began making use of the fat from the dripping pan to cook a batter pudding. Then, in 1737, the first recipe for "dripping pudding" was published in The Whole Duty of a Woman. Fast forward 400 years and the pudding is as popular as ever and completes our favourite Sunday lunch.
5. The Biggest Maze In The UK
As the biggest maze in the UK, York Maize Maze is created from over one million living, growing maize plants! This award-winning maze is a great family day out, with over 20 rides, attractions and shows to enjoy. The maze covers an area larger than eight Wembley football pitches and is thought to be one of the largest mazes in the world. A-maze-ing!
6. Guy Fawkes
Guy Fawkes was born in 1570 in York and is notorious for his attempt to kill King James I and blow up Parliament in 1605. Today, Guy Fawkes Day is celebrated across the UK with spectacular firework displays and family-friendly bonfires.

7. Wensleydale Cheese
Wensleydale is produced at The Wensleydale Creamery in Hawes, in the heart of the Yorkshire Dales. Wallace and Gromit's favourite cheese is known for being creamy, crumbly and full of flavour! Enjoy a taste of Yorkshire and experience the Yorkshire Wensleydale Cheese Experience or indulge in a sharing platter at Calvert's restaurant, inspired by their classic cheese.
8. The World's First Football Club
Yes – the world's very first football club was formed in Yorkshire! Nathaniel Creswick and William Prest wrote the rules and laws of the game and founded Sheffield FC on 24th October in 1857 – the worlds very first football club!
9. Stainless Steel
Sheffield-born metallurgist, Harry Brearley discovered the material in 1913. In his research on how to stop the corrosion of metal in gun barrels, he discovered that a 13% Chromium steel did not corrode after several months. Soon after stainless steel's discovery, factories began manufacturing cutlery and surgical tools in Sheffield. Today, stainless steel remains an ideal material; it's 100% recyclable and highly resistant to corrosion, reducing carbon emissions and establishing more sustainable practices.

10. M&S
The major retailer M&S started out as a market stall in Kirkgate Market, Leeds in 1884. A Jewish Eastern European refugee named Michael Marks founded the stall with the slogan "Don't ask the price, it's a penny". Michael later went into partnership with a local bookkeeper, Thomas Spenser in 1894 and Marks & Spencer was born. You can experience the history of M&S for yourself at the Marks in Time Exhibition at the University of Leeds.
11. Dame Judi Dench, Sir Patrick Stewart, Ed Sheeran and Sean Bean
Yorkshire is home to some of the most famous people in the world! From York-born Judi Dench to Sean Bean who grew up in Handsworth, Sheffield, Yorkshire has produced many famous people and talented actors throughout the years.
12. The Largest Railway Museum in the World
Explore over 200 years of history at The National Railway Museum in York. Home to iconic locomotives, the museum showcases the engineering brilliance and innovation of railways. A fantastic free day out in Yorkshire, the museum attracts over 800,000 visitors every year and is well worth a visit during your Yorkshire holiday.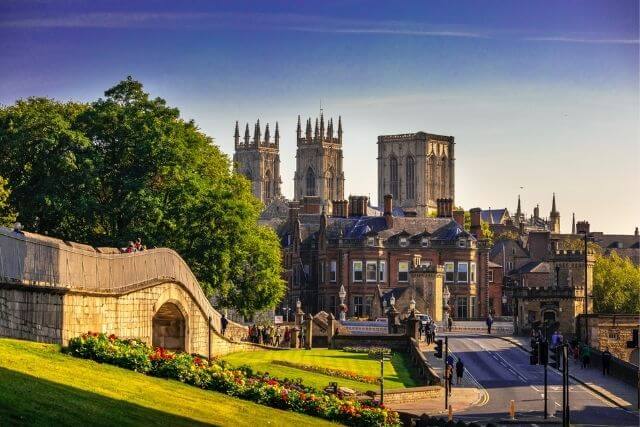 13. York Minster
The county's most iconic building and one of our favourite things to do in Yorkshire, York Minster is one of the world's most magnificent cathedrals. York's gothic cathedral was built between 1220 and 1472, and it is considered the symbolic heart of the city. York Minster holds many events throughout the year, including one of the best Christmas events in Yorkshire.
14. Sooty & Sweep and Pudsey Bear
Sooty & Sweet were a creation by Harry Corbett, born in Bradford. Sooty, a toy purchased from a Blackpool stall in 1948 for his son, inspired the popular TV show. Whilst Pudsey Bear comes from Pudsey, a town in Yorkshire! The character was created by Joanna Lane, who is also from Pudsey.
15. The UK's Most Popular Goth Weekend
Every April and October, Whitby is host to an alternative music festival and Bizarre Bazaar Alternative Market, attracting thousands of goths and alternative lifestyle fans to the popular seaside town. Whitby Goth Weekend is a celebration of all things weird and wonderful.
---
Has our list of things Yorkshire is famous for inspired you to visit this fantastic county? Why not browse our range of beautiful holiday cottages along the Yorkshire coast? From dog-friendly Yorkshire retreats to sea-view cottages, we can help you find the perfect home away from home.