Journal
Your Guide to Whitby Goth Weekend
Whitby Goth Weekend is a celebration of all things weird and wonderful. Twice a year Whitby is host to an alternative music festival and unique market, attracting thousands of goths and alternative lifestyle fans to the popular seaside town. 
Enjoy a weekend of shopping, drinking and live music, with plenty of eye-catching outfits to admire. Appreciate all things unique and interesting at the UK's most popular goth festival.
Here's our guide to the Whitby Goth Weekend…
When is Whitby Goth Weekend?
Whitby Goth Weekend has confirmed its 2023 dates, with two epic weekends to look forward to;
28th-30th April 2023
27th-29th October 2023
The coronavirus pandemic forced the cancellation of the festival in 2020, but its return in October 2021 was a massive hit.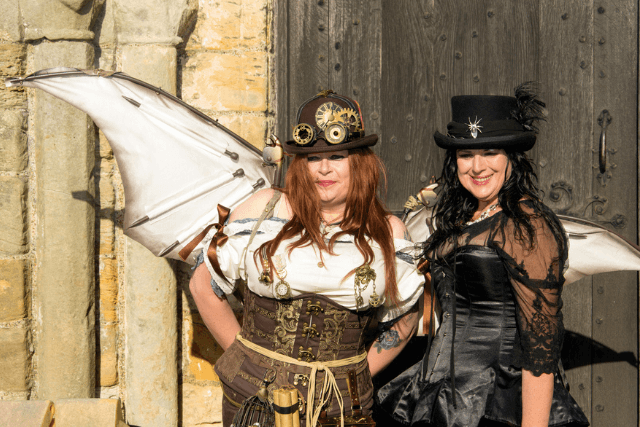 ---
What Happens on Whitby Goth Weekend?
WGW is an alternative festival and one of the best Goth events in the World, celebrating gothic culture, music and fashion.
On top of two live music nights, the festival offers three days of alternative shopping and fringe events. Home to over 100 indoor stalls, the Bizarre Bazaar Alternative Market is a focal point of the festival.
A number of well-known bands have performed at WGW over the years, including The Damned. For a full list of line-ups and events, check out the official Dates and Line Up page on the festival website.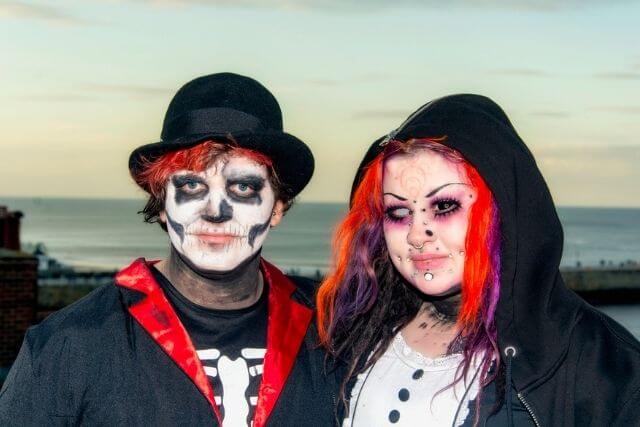 ---
The Bizarre Bazaar Alternative Market
One of the UK's oldest alternative markets, the Bizarre Bazaar is a definite highlight of Whitby Goth Weekend.
Explore the unique stalls and discover unusual gifts, dark art, curious trinkets and gothic clothing.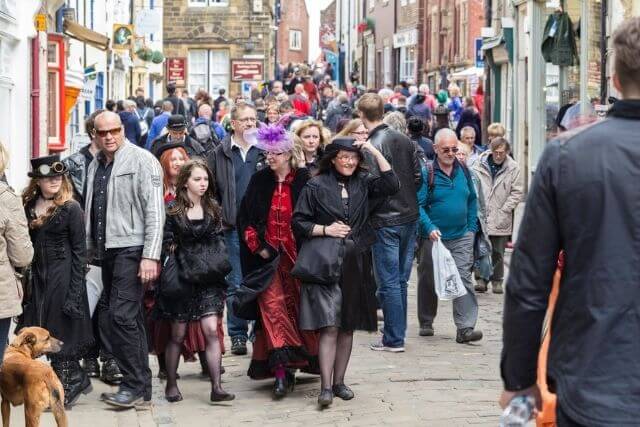 ---
Where Does Whitby Goth Weekend Take Place?
The event takes place in the popular seaside town of Whitby, along the North Yorkshire Coast.
The Bizarre Bazaar market is spread across three venues; The Spa Pavilion, Whitby Leisure Centre and Whitby Brunswick Centre.
Looking for information about the event? The WGW Information Stall is located in Whitby Leisure Centre, with a helpful team to answer any questions about the event or Whitby itself.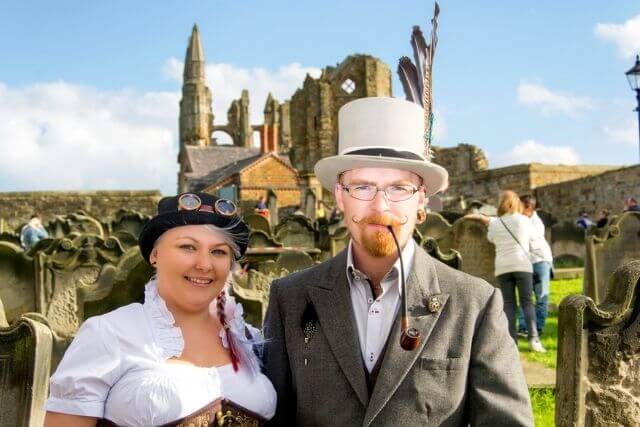 ---
How Did Whitby Goth Weekend Start?
The festival was founded by Jo Hampshire in 1994, as a result of 40 pen pals meeting at the Elsinore Pub in Whitby to share their interests.
Nowadays, the festival attracts thousands of visitors to Whitby every spring and autumn, bringing over a million pounds to the town every year.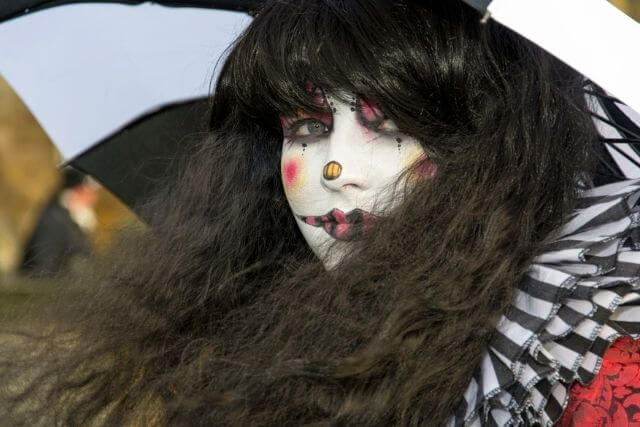 ---
Why Whitby?
Whitby was chosen as the host town for the iconic festival, due to the town's association with Bram Stoker's gothic novel, Dracula.
Stoker found some of his inspiration for Dracula whilst staying in Whitby in 1890. His protagonist was originally going to be called Count Wampyr until Stoker came across the name Dracula during his time at Whitby library.
There are plenty of Dracula related activities to get involved in whilst attending the Whitby Goth Weekend. The Dracula Experience brings the novel to life as you experience a unique tour of the Dracula story. Walk through different scenes and experience electronic special effects and convincing live actors. Or visit Whitby Abbey and follow the route taken by Dracula himself as he fled the wreckage of his ship up into the graveyard and abbey ruins.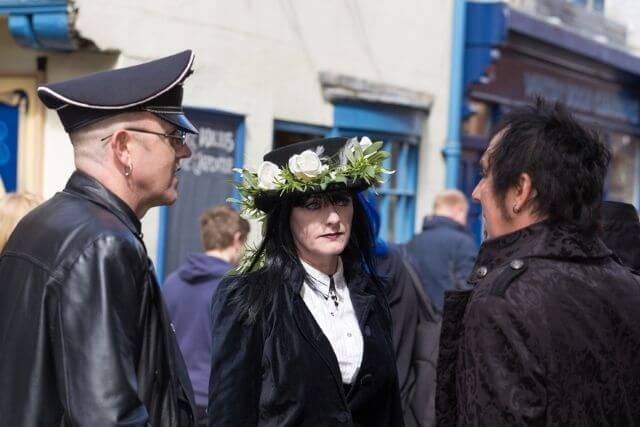 ---
Whitby Goth Weekend Accommodation
Are you heading to Whitby Goth Weekend this year?
We have a fine selection of accommodation in Whitby to base yourself during your stay. From luxury apartments to cosy cottages, we're here to help you find the perfect place to stay in this charming town.
---
Looking for some extra inspiration whilst at Whitby Goth Weekend? Discover these incredible things to do in Whitby to ensure you have a weekend to remember. Or why not read our insider's guide to Whitby – for everything you need to know about Yorkshire's most popular coastal town.