Journal
8 Best Beaches in Scarborough
From traditional arcades to sprawling clifftops and nature walks, each of the eight beaches near Scarborough offers a unique experience. Take in the history of the Yorkshire coast or have a bite of locally sourced seafood. The choice is yours...
With more than 10 million visitors each year, Scarborough offers the classic British seaside experience. But there's more to 'Scarbados' than first meets the eye – there are in fact eight beaches near Scarborough, offering a range of family fun and sightseeing opportunities.
---
Beaches in Scarborough
The seaside town of Scarborough has four main beaches, ideal for long walks along the bay and a feast of old-fashioned fish and chips. Once you're done in the main town, be sure to explore further out with four more beaches near Scarborough. Or why not head to one of these delightful pubs in Scarborough for a post-beach walk refreshment?
Scarborough Beach
One of our favourite things to do in Scarborough is to head to Scarborough Beach, tip our toes in and enjoy a stroll down the sandy shores. After tucking into a portion of Harry Ramsden's, indulge in a little culture with the Rotunda Museum of Coastal Heritage and Geology, or the local art gallery.
Feel like trying your luck? Be sure to visit Scarborough Beach's amusement arcades, packed full of 2p slot machines, high-octane driving games and ball sports. You'll even find a bowling alley.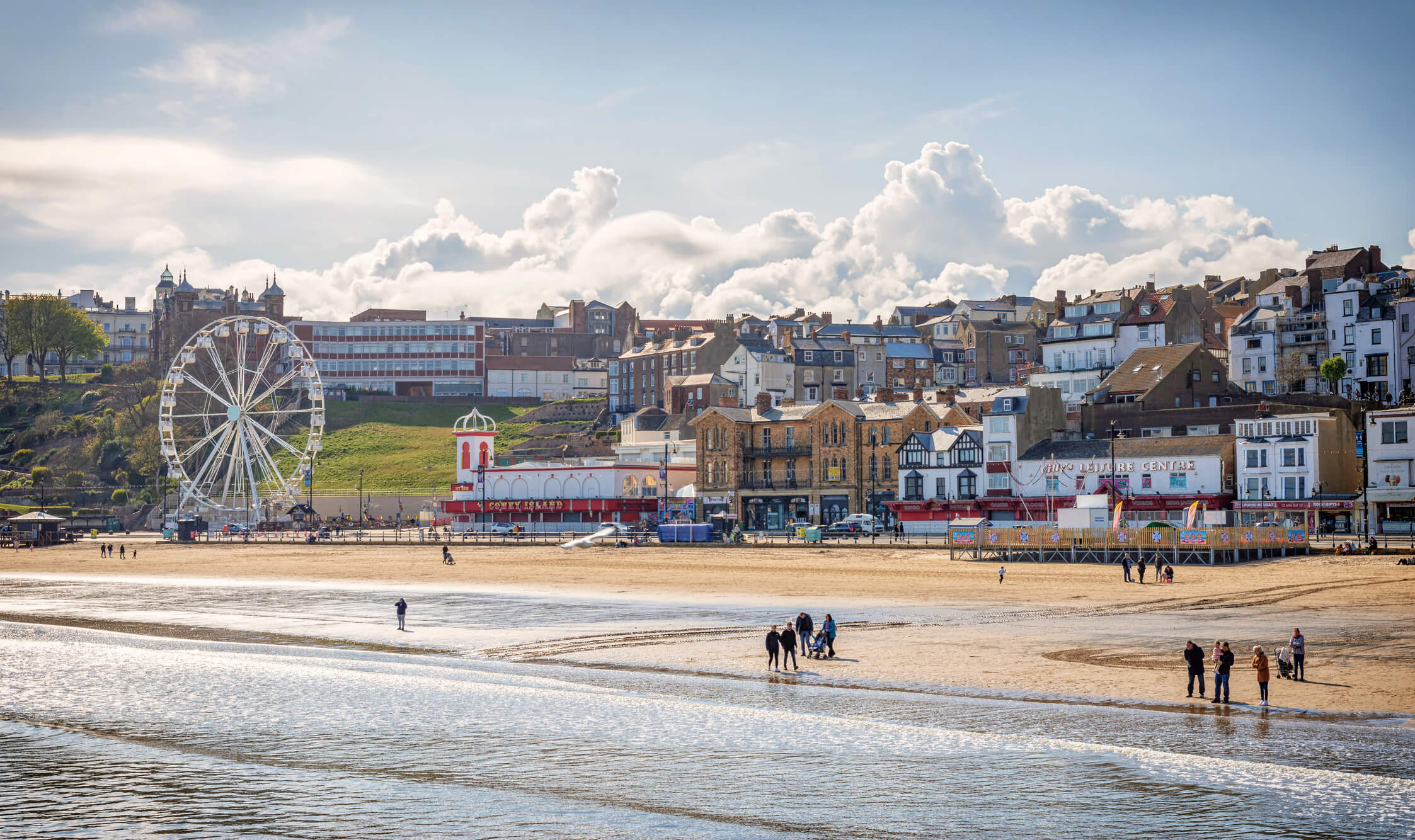 South Bay Beach
If you love a boat trip, you'll love the South Bay Beach at Scarborough. This large bay features a working inner harbour with pleasure boats and yachts. Don't miss out on the cliff lift, which has been running since 1881! With so much to do, it's no wonder we've named it one of our best beaches in Yorkshire.
Those looking to indulge in a little nightlife should head to Scarborough's historic spa, where the Spa Orchestra resides during the summer. But before you stop, make sure you visit the seaside stalls to sample cockles and winkles, or take a stick of rock home.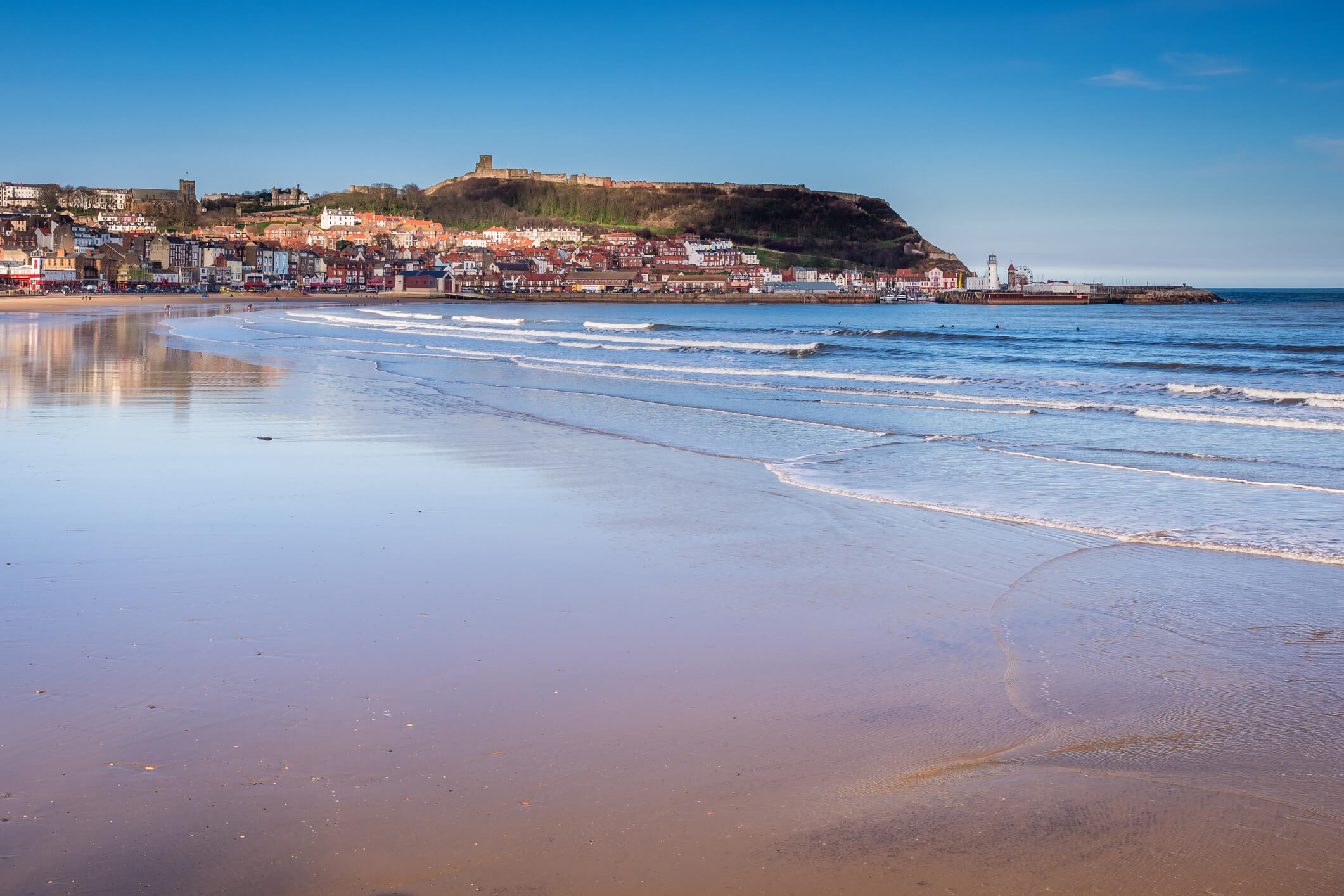 North Bay Beach
With fewer shops and more space to roam, North Bay Beach is ideal for long, relaxed walks. The large esplanade and clifftops offer plenty of Kodak moments, while there are designated areas to walk your dog on the beach.
Missing the commercial side of things? The South Bay Beach is just a 20-minute walk away. Dividing the two bays is the captivating Scarborough Castle, a 12th Century ruin begun by Henry II. North Bay Beach is the perfect spot for kids, with a miniature railway and the Sea Life Centre ready to help them while away the hours.
South Cliff Gardens Beach
For a break from the sand, take a wander up to South Cliff Gardens. Of course, you're only a stone's throw away from the breaking waves, but why not take in a little flora during your visit? The South Cliff Gardens Beach offers stunning views of the historic Grand Hotel Scarborough, which reigns supreme at more than 150 years old.
You'll be spoilt for choice with full access to the Spa Gardens, the Prince of Wales Gardens, the Rose Gardens, Shuttleworth Gardens, Holbeck Gardens and the Italian Gardens. Descend the Italian Steps designed by Sir Joseph Paxton, or capture the moment at the Clock Tower.
---
Beaches near Scarborough
If you're staying on the Yorkshire coast for a while, make time to visit other beaches new Scarborough. The Northeast Coast is teeming with gorgeous sights to see, from Filey Beach to Royal Albert Park.
Filey Beach
If you love a sculpture, a trip to Filey Beach is an absolute must. The promenade along Filey Beach is home to a whole host of artwork inspired by the town's local heritage. On top of sculpture trails, you'll also find Filey Geological Park, steeped in 150 million years of history.
Be mindful of limits on dog-walking if you are taking your pooch along with you. There are restrictions between May 1 and September 30, but there is plenty of fun to be had off the Royal Parade. Enjoy the Cleveland Way coastal walk or get your binoculars out for a spot of birdwatching at Filey Brigg.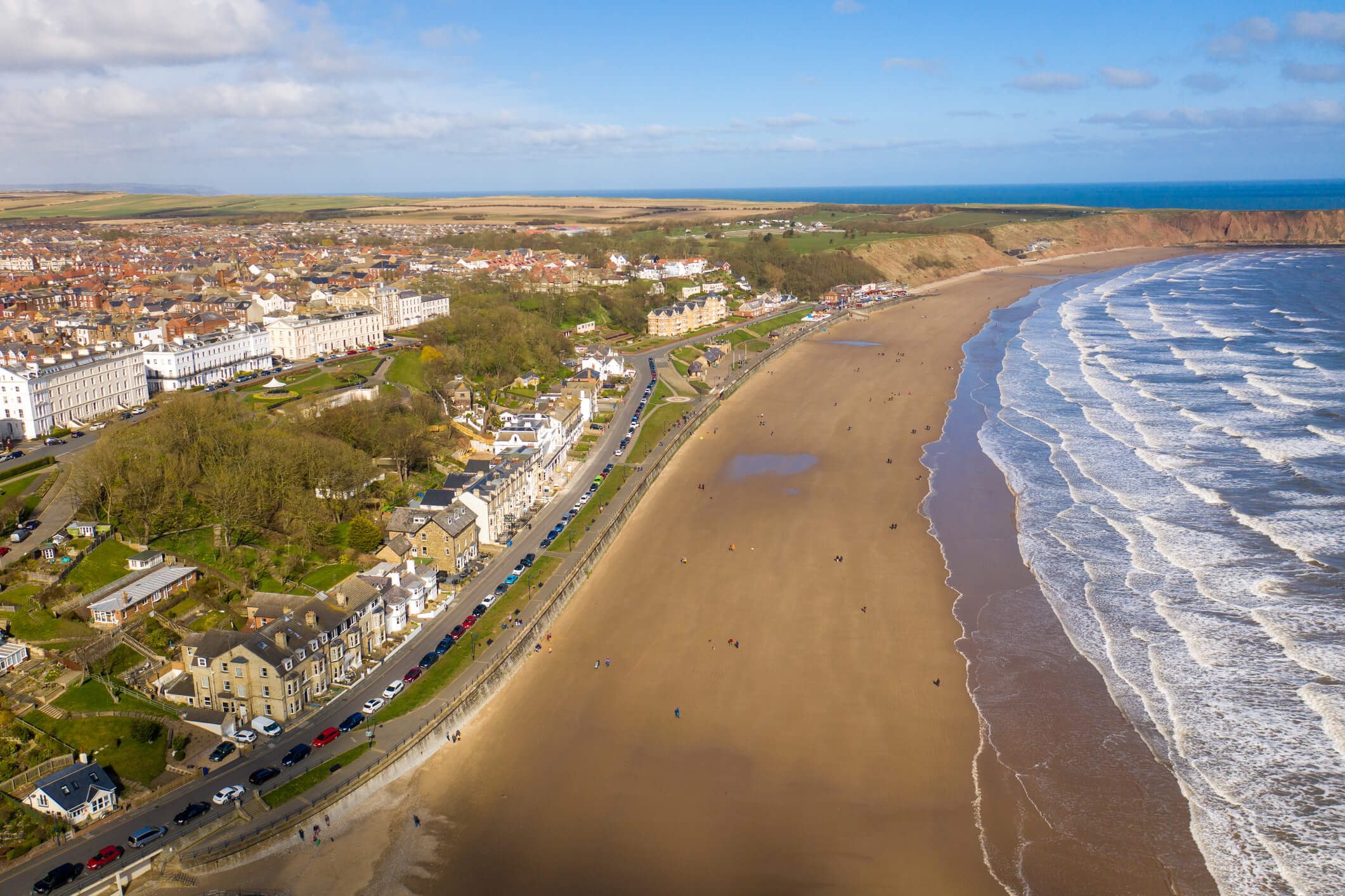 Cayton Bay Beach
Cayton Bay Beach is the ideal spot for those looking to get away from all the hustle and bustle of busy beachside life. This quiet coastal walk offers awe-inspiring views of clifftops, dating back to the Jurassic Period some 150 million years ago.
Of course, if you are a bit of a thrill seeker, the bay is also a hit among water sports fans. Cayton is where you'll find Scarborough Surf School, so expect to see plenty of people donning their wetsuits. Contrastingly, Cayton Bay is home to Johnny Flinton's Harbour, which is rumoured to be a naturist spot – though local rules suggest otherwise. Heed this warning!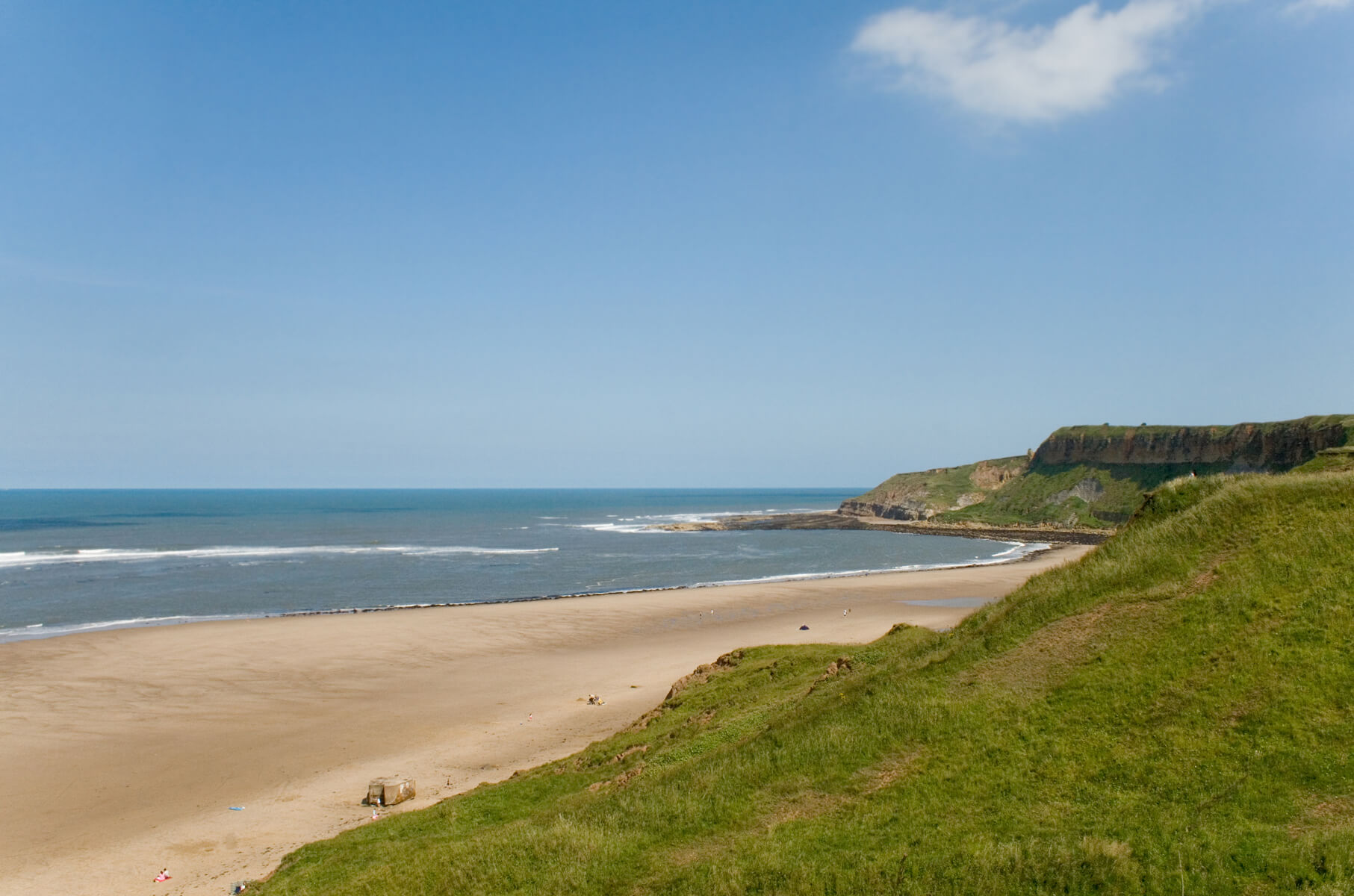 Cornelian Bay Beach
If you're not afraid to take on a bit of a riskier walk, an amble up to Cornelian Bay Beach is definitely worth it. This beach is a lesser-known spot and is not as popular among tourists, making it ideal for those seeking quiet reflection. However, it comes at a price – you'll need to walk up a steep lane surrounded by greenery to get there.
Visit the bay at low tide for the best views. The bay takes its name from the red semi-precious stone, the carnelian, which occasionally washes up onshore. You can also indulge in a little history with WW2 lookouts.
Royal Albert Park Beach
Looking over the North Bay of Scarborough, the Royal Albert Park has uninterrupted views of Scarborough Castle. If you're into your geology, feast your eyes on the Jurassic rockery around the area. It's also perfect for kids, and features skate parks, cafés and dog walking spaces.
You're also just a stone's throw from North Bay Beach here, so be sure to pop by the miniature railway once you're done smelling the flowers.
---
Book your stay with Yorkshire Coastal Cottages.
Has our list of beaches near Scarborough got you feeling like you need a little sea air? Take a look at our selection of holiday cottages in Scarborough and give yourself the break you deserve.