Journal
Things To Do In Staithes
Staithes was once the largest fishing port on the North East Coast and is now a picturesque, unspoiled village with a thriving artist community. Here we guide you through our favourite things to do in Staithes...
The charming and sleepy seaside village of Staithes, with its cobbled streets and back alleys, is something of an artist's dream. Staithes is one of our favourite places to stay in Yorkshire.
Its pretty houses and cottages are clustered around the old harbour and surrounded by high craggy cliffs on three sides, with a sheltered sandy beach set amongst the rocky coastline. Staithes' beach is one of the best beaches in Yorkshire and a popular spot for fossil hunting and sunbathing.
The village can claim connections with Captain Cook who was apprenticed to a draper near the harbour. Nowadays, Staithes is a must for anyone visiting the Yorkshire Coast and has a good selection of pubs, shops and tea rooms.
Staithes is still home to an RNLI lifeboat station and a small fleet of cobbles (fishing boats) landing fish, crab and lobster, with boat trips for birdwatching, fishing and even whale watching available.
It's also the location of the popular BBC children's TV series, Old Jack's Boat.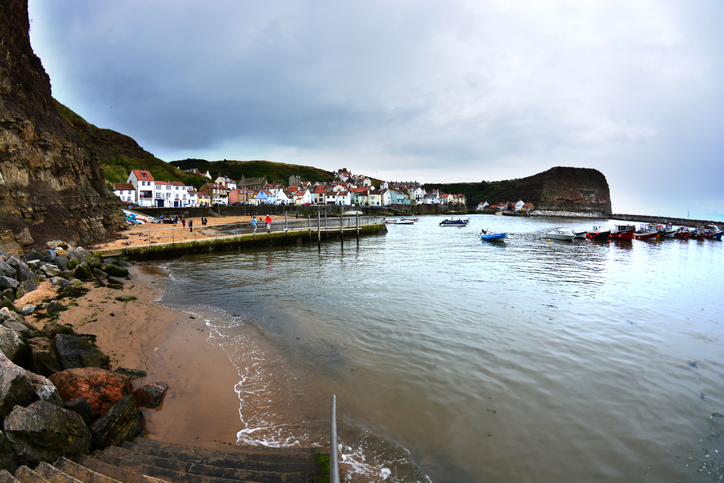 Staithes has a strong attraction for artists, with an annual Art and Heritage Festival, galleries and artists studios with art courses and workshops regularly on offer.
There's a free Illusion Trail, which guides visitors around the network of ginnels (alleyways), with trail guides available locally.
The best views of the town can be enjoyed from the Cleveland Way which runs down the cliff to the sea's edge. Discover some of the best walks in the area with our guide to walking in North Yorkshire.
Altogether a superb base for exploring the Yorkshire Coast, visiting the larger resorts of Whitby or Scarborough and enjoying the moorland villages of the North York Moors National Park.
---
We hope you enjoyed reading all about our favourite things to do in Staithes. If you fancy a coastal holiday in Yorkshire, we have a growing number of fabulous holiday cottages in Staithes – please call for details of new holiday cottages coming soon.