Journal
Where to Enjoy Afternoon Tea in Scarborough  
Indulge in a moment of luxury and enjoy a bite to eat with a spot of afternoon tea in Scarborough. Whether you're celebrating a special occasion or escaping the thrill of the coast, you're sure to find something to suit everyone here!
Known for its tea rooms, Yorkshire is just brimming with fun things to do – and it's perfect for those with a sweet tooth.
If you are visiting the coast and feel a little peckish, be sure to check out the best afternoon tea in Scarborough.
We've compiled a handy list of our favourites…
---
Where can I find the best afternoon tea in Scarborough?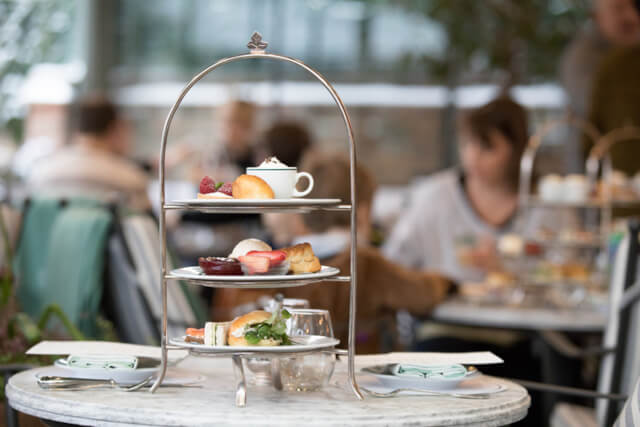 From views out over the bays to quieter tucked away villages, there's an afternoon tea for every kind of vibe in Scarborough.
Take a look at our hand-picked selection and get booking for your next special occasion. 
---
Emma's Coffee Lounge
Since 1981, Emma has been proud to serve coffees and afternoon tea in Scarborough.
You'll find her coffee house on Huntriss Row, perfect for a quick caffeine hit or a more chilled out afternoon with sandwiches and cakes. 
Served on a tiered platter, Emma's afternoon teas include miniature desserts and pastries, finger sandwiches and scones with jams.
Bookings must be made 24 hours in advance on 01723 378739, and gluten free options are available. 
---
The Sun Court Café
Sun Court by name, Sun Court by nature, the Sun Court Café is a trap for glorious Yorkshire rays.
This Art Deco café is situated inside the Scarborough Spa events and conferencing venue, and offers outstanding views of the South Bay. 
Homemade scones and sandwiches are just part of the package at this stunning Scarborough café.
What could be better than gazing out upon the bandstand and stage as you tuck into tiers of locally sourced treats?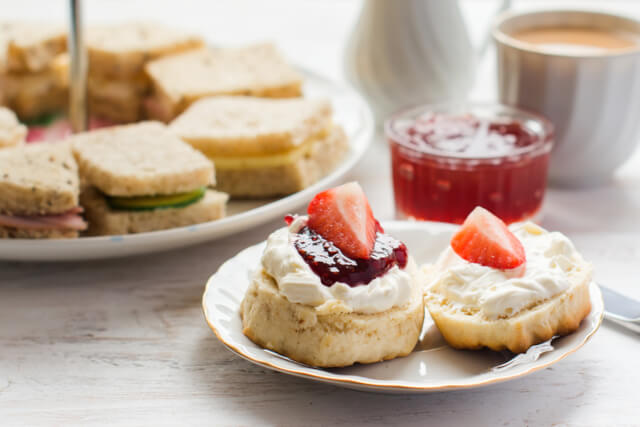 ---
Bonnet and Sons 
Bonnet and Sons is a restaurant, café and chocolatery all rolled into one! If you like sweet treats, you won't find a better place for afternoon tea in Scarborough.
The business has been running since 1880 and has developed quite a reputation in that time – not least of all thanks to its tempting afternoon tea menu. 
Indulge in scones and sandwiches made from locally sourced ingredients. Plus, sample the sweet treats made in the on-site chocolate factory, perfect for eating at the time or to pick up on a visit to the gift shop.
You'll find Bonnet and Sons on Huntriss Row.
---
Le Café Jardin
For an afternoon tea with bite, Le Café Jardin serves up sandwiches, crisps, salad and coleslaw. You'll also find the classic jam and cream scones, tray bakes and hot drinks.
Priced at just £15 a person, we would recommend booking in advance on 01723 354572. 
Better still, if you're in the mood for something stronger, why not indulge in a few mimosas?
And that's not all. With a reputation for its delicious breakfast, we're sure that you'll want to visit this café on Huntriss Row again.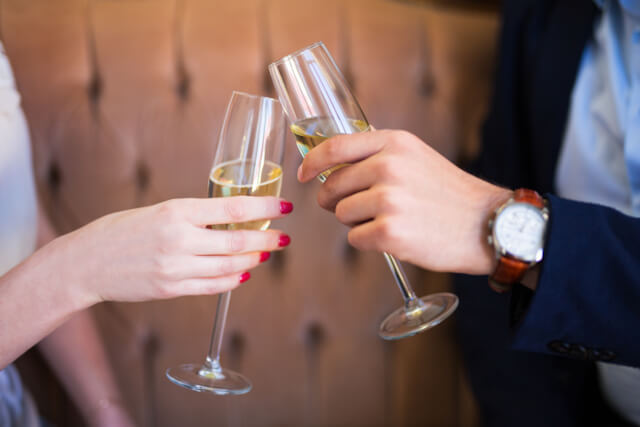 ---
Peaches 'n' Cream
If you've got a sweet tooth, you're in for a treat at Peaches 'n' Cream.
Based in Peasholm Gap, this sinful café doubles as an ice cream parlour, so you can pop in for a dessert before you hit the beach. 
Of course, the best afternoon teas in Scarborough offer the most choice – and at Peaches 'n' Cream, you can enjoy both standard and vegan options.
The menu offers a selection of sandwiches and quiches, plus traybakes, cakes and a hot drink on the side. At just £15 per person or £25 for two, it's rude not to! 
---
The Clock Café 
Just a stone's throw away from the Scarborough Cliff Lift, The Clock Café is known for flying its famous flag.
You might catch sight of staff in costume dress as you enjoy your homemade sandwiches and scones!
With two dining areas, you can choose to sit indoors or catch views of the rockpools and golden sands outside. 
And after a day of adventure, why not pop back for a toastie or a hot pot of coffee? The friendly staff are on hand to whip up a menu of hearty food, including what some describe as the "best chips in Scarborough"!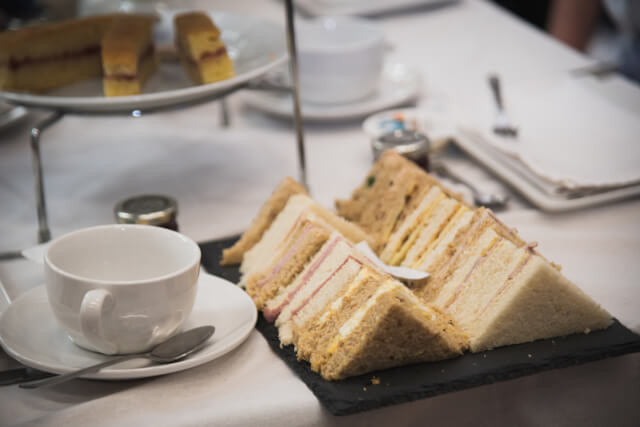 ---
Ivy by the Sea
Right in the heart of Scarborough Harbour, Ivy by the Sea offers everything from afternoon tea to your favourite tipple. Choose from an array of flavourful gins or enjoy a pint of Birra Moretti on tap.
You can dine all day here with a locally sourced menu featuring all-day breakfasts, and fish and chips. 
Plus, the pièce de résistance, Ivy by the Sea's afternoon tea features four tempting options. Start with a traditional tea at just £19.95 for two, or upgrade to a gin, prosecco or even champagne tea!
Every option comes with homemade cakes, scones and clotted cream, and sandwiches. 
---
Café View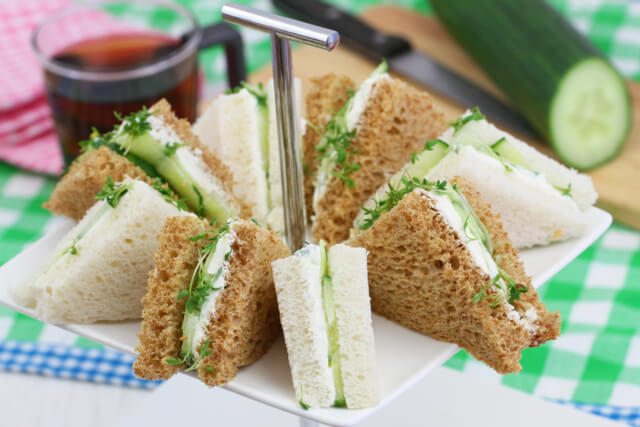 This charming family-run café makes homemade afternoon teas every day, with hearty Yorkshire portions to fill you to the brim.
Tuck into prawn, egg mayo and cheese and pickle sandwiches, together with chutneys, mixed fruits and beautifully crafted desserts.
The team at Cafe View will even decorate your afternoon tea for special occasions. Heading out for Mother's Day? Look out for those finishing touches.
With vegan and gluten free options available, it makes it even sweeter! 
---
The Yew Tree Café
Just a little out of Scarborough town centre in the village of Scalby, you'll find the charming Yew Tree Café.
A deluxe afternoon tea menu includes a selection of sandwiches, mini quiches and sausage rolls, along with scones with jam and cream and a range of indulgent cakes. 
You can dine in at the cafe for as little as £15 per head, or if you're in a hurry, have the team pack it up for you for just £12!
The café has a huge range of sweet treats to choose from, including homemade pancakes to giant cookies.
This Scarborough cafe welcomes four-legged friends outside of peak times, so be sure to pop down for a late lunch with your canine companion in tow! 
---
Daisy Tea Rooms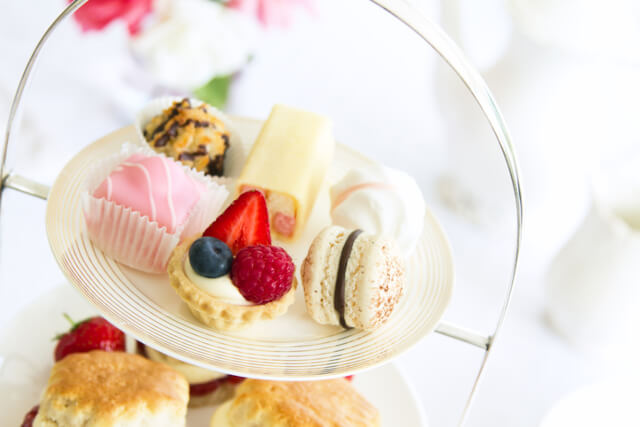 Located close to the North Bay Railway and Alpamare Waterpark, Daisy Tea Rooms serves a beautifully presented afternoon tea in Scarborough for just £15 per person.
Enjoy lemon scones and fresh berry cheesecakes, plus quiches, sandwiches and salads with a hot drink on the side.  Daisy Tea Rooms love a themed afternoon tea, whether it's treating Mum or celebrating a national holiday.
You'll find Daisy Tea Rooms in the village of Scalby, just a short distance from the town centre.
Don't forget to pop back for their famous pancakes. 
---
Sample these delights for yourself with a spot of afternoon tea in Scarborough.
Whether you're treating a loved one or just satisfying a sweet tooth, make a stay of it with a getaway to one of our Scarborough cottages. 
And why not find somewhere to enjoy an evening tipple with a read of our guide on 10 of the best pubs in Scarborough?