Journal
The Best Beaches in Whitby
Whitby is a charming seaside town on the North Yorkshire coast. As you wander its cobbled streets, you'll notice quaint cafes, antique shops and the smell of fish and chips wafting in the sea breeze.  But the jewel in Whitby's crown is its variety of stunning beaches.
Beaches in Whitby
Whitby is split by the River Esk running into the town from the North Sea. You'll find a great selection of beaches on each side – some sandy, some shingle.
Whether you're walking the dog, on a family day out or want to build a prize-winning sandcastle, Whitby beaches have something to offer everybody.  
Continue reading to discover the best beaches in Whitby for every kind of trip…
---
West Cliff Beach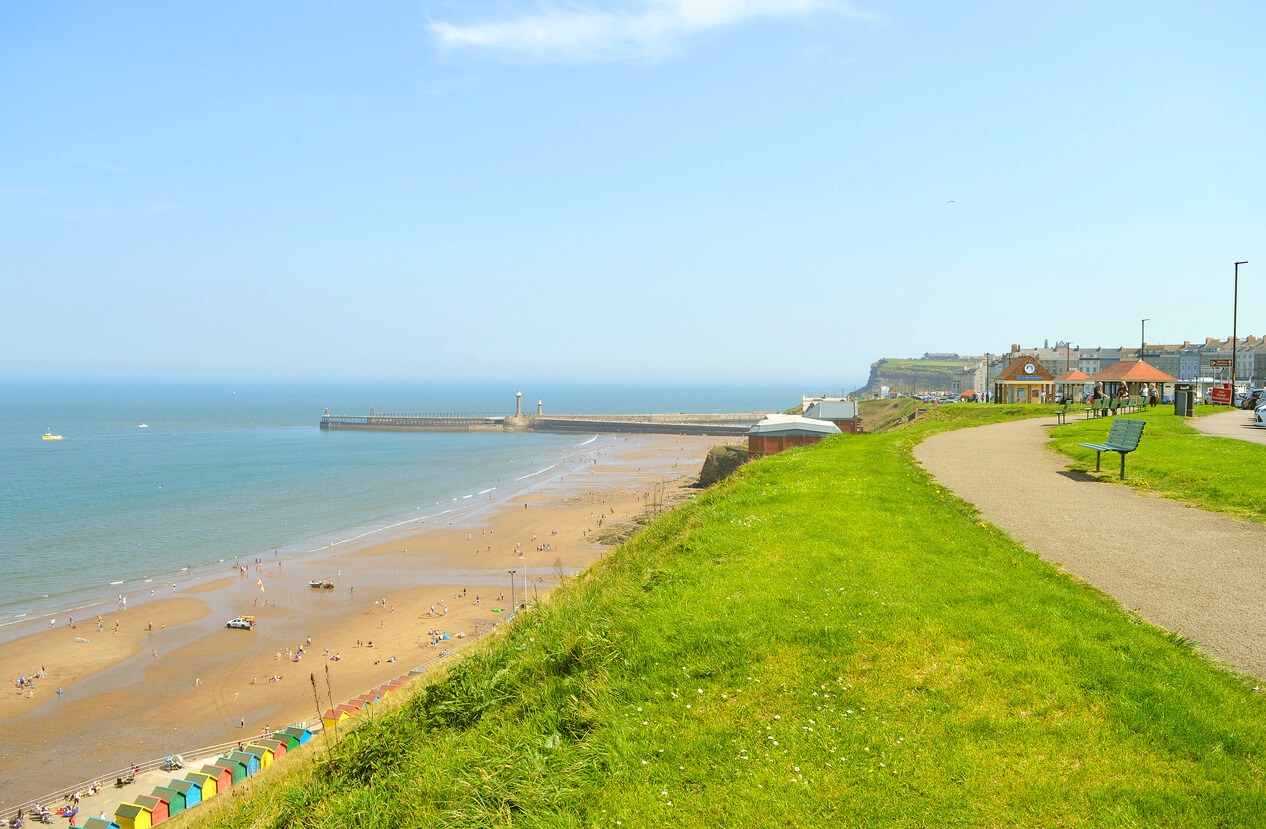 West Cliff is Whitby's main beach, stretching for two sandy miles beyond West Pier. It's a great choice for fans of the traditional British seaside, with its colourful beach huts, deckchairs and donkey rides.
It's also got plenty of things for families to do. Take a paddle in the sea or build a sandcastle on West Cliff's flat, sandy shoreline – just don't forget to pack the bucket and spade! With the summer months crowds, lifeguards patrol the beach and dogs are not allowed.
To get to West Cliff, you'll need to head to the northern part of Whitby town centre. If you're already in town, West Cliff Beach is only a few minutes' walk from the shops – or you can use North Terrace, West Cliff or Pavilion Drive car parks.
There are access ramps from Cleveland Way, which runs the length of West Cliff all the way to Upgang at the end of the beach. From town, you can walk down the slipway at West Pier next to the lighthouse, or from North Terrace near the Captain Cook memorial.
---
Tate Hill Beach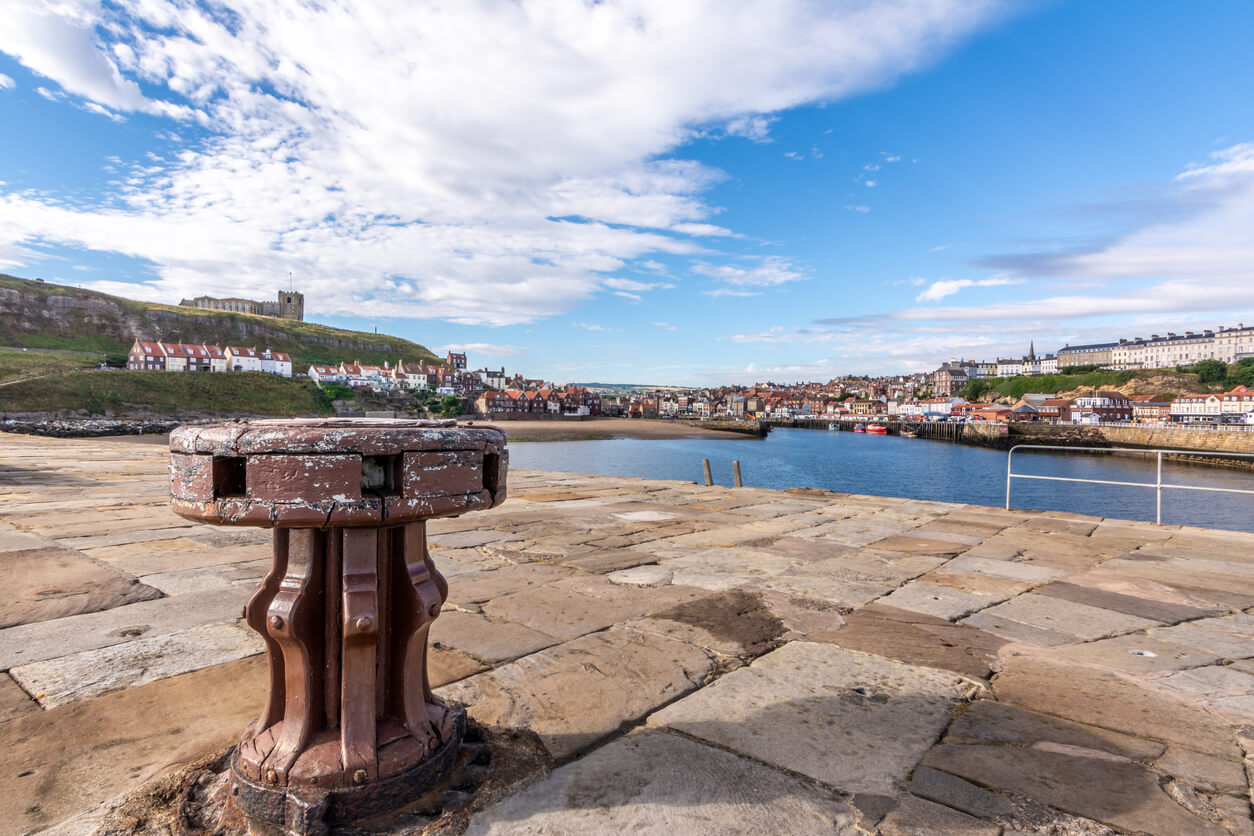 Located on the opposite side of the river is Tate Hill Beach. It's a smaller sand and shingle beach popular with sunbathers and swimmers alike, sheltered by Whitby's natural harbour.
It's also a more dog-friendly beach than West Cliff – you can take canine family members along with you to Tate Hill Beach all year round.
To get there, take a short stroll from town or stop in the Church Street car park. The nearby East Pier is well worth a visit. Those who feel energetic can also begin the legendary 199 steps climb up to Whitby Abbey from Church Street.
---
Upgang Beach
The next of our beaches in Whitby is Upgang Beach. Set in a gorgeous spot at the end of West Cliff Beach, Upgang is both sandy and shingle, surrounded by cliffs all the way up to Sandsend.
Here, you'll find a much different vibe to those at West Cliff or Tate Hill. Upgang is much less crowded, and dogs are allowed year-round. To get there, head off Sandsend Road towards Whitby Golf Club – then follow the steps down to the beach.
While you can swim and sunbathe at Upgang, you're also just as likely to see local surfers and fishermen. It's an excellent spot for a bit of peace and quiet while you watch the world go by.
---
Beaches near Whitby
Head slightly out of Whitby and you'll find yet more stunning Yorkshire beaches.
Saltwick Bay Beach
One of the best beaches near Whitby, Saltwick Bay is a sandy beach set in a quiet, hidden cove. It's only about one mile away from Whitby town centre, heading east.
The trip to Saltwick Bay Beach can be a little tricky, so take care and wear suitable footwear. Head to Whitby Holiday Park and take the footpath down to the beach – taking special care on the steps in wet weather.
Those that make the trip from the cliff tops will be rewarded. Saltwick Bay is a perfect choice for nature lovers – try to spot the array of crabs, fish and birds dotted around.
The surrounding cliffs also make Saltwick Bay a great spot for fossil hunters. Keep your eyes peeled for things like ammonite and plant fossils, and search for some famous Whitby jet in the rock piles.
Robin Hood's Bay Beach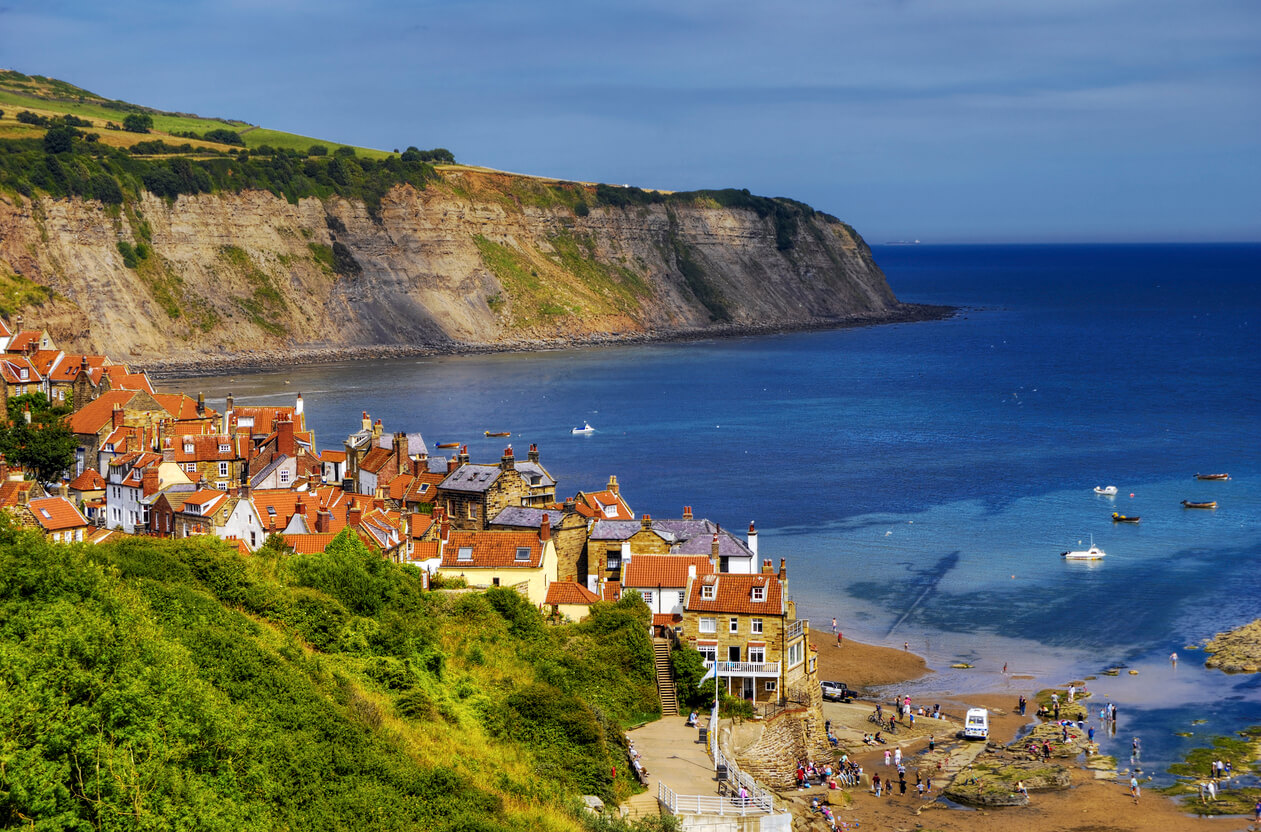 For a truly unique setting, head out of Whitby to Robin Hood's Bay beach. The miles of golden sand, postcard-perfect town and sense of history are well worth the trip.
Robin Hood's Bay is an old fishing village situated on a steep hill. It's full of stories of old, including the fishermen, sailors and smugglers who once called this town home.
To get to the beach, park at the top and walk down the steep cobbled streets, winding your way through picturesque old shops and inns. At the bottom, you'll find a sandy beach perfect for families, dog walkers, and fans of truly magnificent views.
Sandsend Beach
Located between Whitby and Runswick Bay is Sandsend Beach. This stunning area is home to one of the best beaches in Yorkshire, popular with families, nature lovers and surfers.
When winds are high, Sandsend is home to some of the biggest surfing waves in the region. You'll also have plenty of rock pools to explore when the sea is out.
During low tide, Sandsend Beach is around a 90-minute walk from Whitby – make sure to visit the village's cosy cafes for a slice of cake on the way. There's also plenty of parking in the village if you'd prefer to drive.
Runswick Bay Beach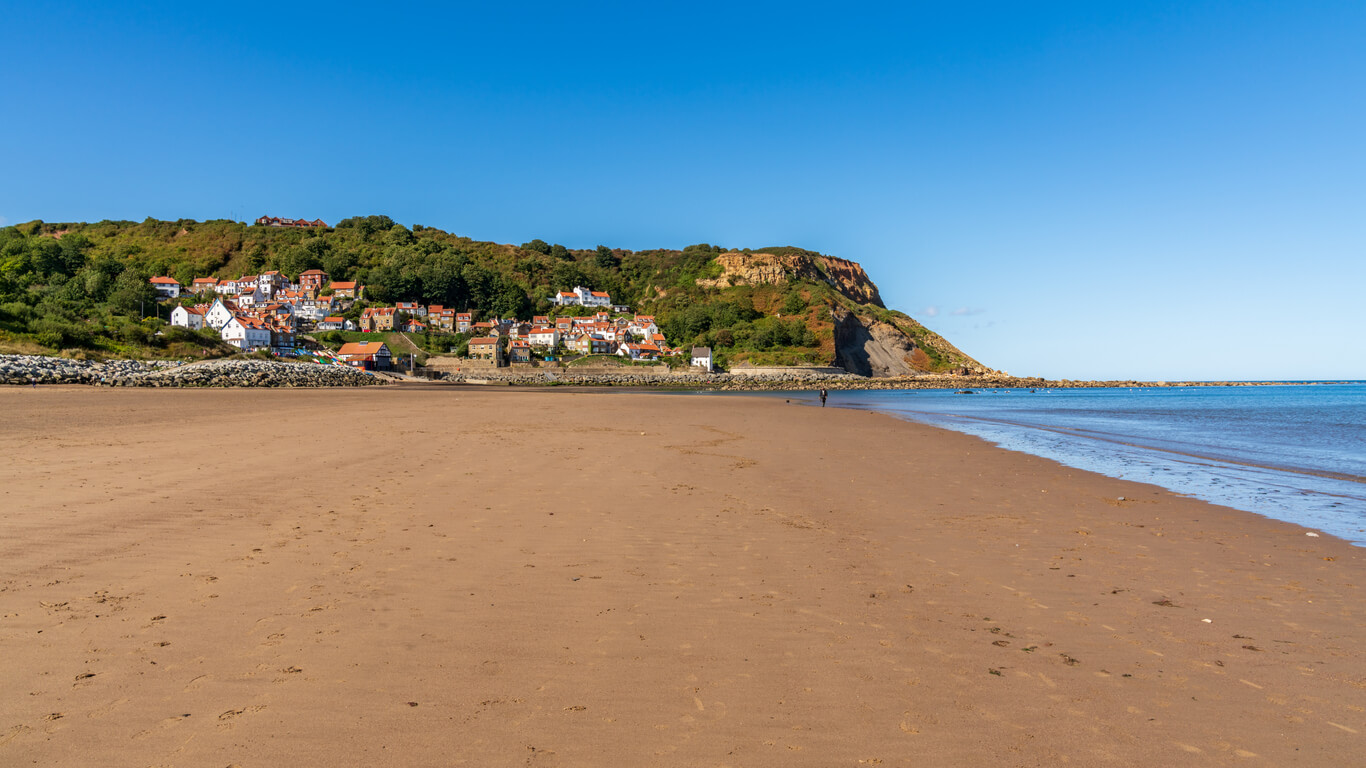 Last but not least on our list is Runswick Bay beach. Situated around 10 miles north of Whitby, it's another treasure of the Yorkshire coast – and was even named UK beach of the year in 2020!
Runswick Bay has something for everyone. Within its sheltered bay, families can play, sunbathers can relax, and dogs are welcome year-round.
The bay is a popular water sports spot and offers some of the best angling on the Yorkshire coast. It's also a haven for animal lovers, with regular sightings of dolphins and seals in the area.
To get there, drive to the car park above the bay and take the short stroll to the beach.
---
Settled on the perfect Whitby beach for your next trip? Then let's get planning. Browse our range of properties in Whitby to find the ideal base for your trip to the Yorkshire coast.