Journal
Things to do in Whitby for Families
Looking for fun-filled things to do in Whitby with your family? You've come to the right place!
Whether you're looking to spend the day playing on the beach or discovering the rich history of this seaside town, there are lots of free things to see and do in Whitby. Follow our Whitby Treasure Hunt and enjoy a self-guided walking trail around the delightful seaside town of Whitby.
Planning a visit? Download our treasure map and discover these wonderful things to do in Whitby for families …
---
---
Whitby Treasure Hunt for Kids
Heading to Whitby with the kids? Follow our Yorkshire Coastal Cottages Whitby Treasure Hunt and discover the delights of this coastal gem.
Suitable for all ages, our treasure map is easy to follow and a great way to get outside and enjoy the fresh Whitby air!
Follow our Whitby Treasure Hunt and see if you can solve the clues along the way. Most of the attractions are free to visit and include climbing the iconic 199 steps, exploring Whitby Abbey and playing in Pannett Park.
A great day out for the whole family, with breathtaking sea views and interesting attractions along the way. Happy exploring!
---
Treasure Chest
Plus, you can download, print out and create your very own treasure chest! Be sure to collect treasures along the way and store them in your handy treasure chest.
---
Top Things to do in Whitby for Families
From learning all about Captain Cook's adventures to fossil hunting along the coast, there's plenty to see and do in Whitby. For more information on family-fun activities and days out, check out the Scarborough and Whitby Mumbler. Or keep reading to discover 15 things to do in Whitby for families…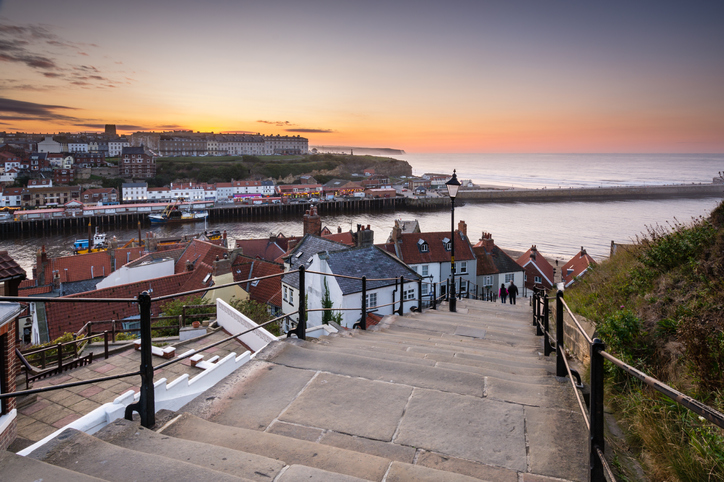 1. Climb the 199 Steps
A famous landmark that offers great views and an even better workout, the 199 steps date all the way back to the 12th century (although it's rumoured that they're even older than that).
Even if you've only got one day in Whitby with the kids, climbing Whitby's 199 steps is a must. It's a steep walk, but there are plenty of places to stop and enjoy the view along the way!
There are some arguments on how many steps there truly are – with some disagreeing on the famed 199. You'll just have to give it a go and count them for yourself!
Price: Free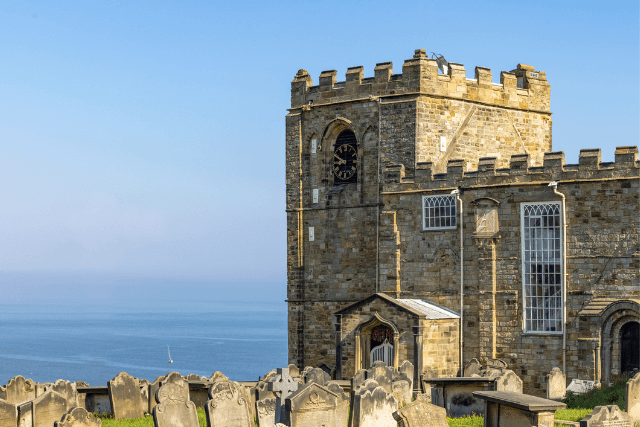 2. Visit the Church of St Mary
At the top of the famous 199 steps, overlooking Whitby harbour, lies St Mary's Church. The church is a Grade 1 listed building, dating back to the 18th century.
Enjoy the views along the clifftop path, as you wander through the fascinating graveyard. Keep your eyes peeled. Can you find the 'pirate' tombstones marked with a skull and crossbones?
Price: Free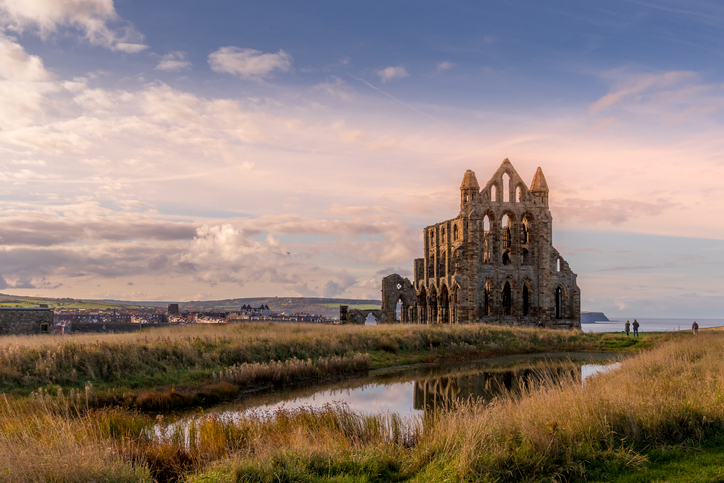 3. Explore Whitby Abbey
Arguably one of the most iconic landmarks in the town, Whitby Abbey is one of our favourite things to see in Whitby. The abbey has impressed and inspired visitors since the 7th century. As the inspiration for the world-famous novel, Dracula, this dramatic monastery sits atop the cliffs and keeps watch over the beach.
There's more to see than just the ruins though. Why not take on The Ammonite Quest? Explore, the hidden history of Whitby Abbey and discover lost buildings and historic objects of Whitby Abbey. The Abbey often offers activities during school holidays including performances of Dracula.
Opening Times: 10am – 5pm
Price: £10 per adult | £6.00 per Child (5-17 years) | Family Tickets from £16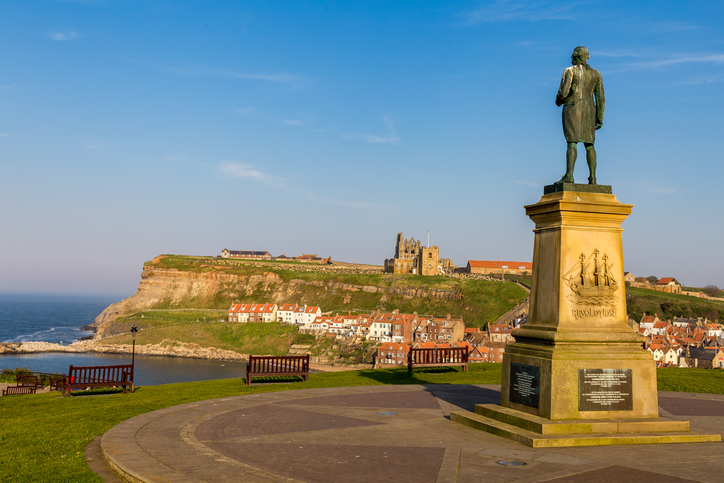 4. Visit the Captain Cook Memorial Museum
Learn all about Captain Cook's awe-inspiring adventures at the Captain Cook Memorial Museum. The uncharted waters of the Pacific, South Atlantic, and Arctic Oceans were explored by Cook for ten years. And Whitby was where he learnt his trade.
There are plenty of things to do for kids at the museum, with a range of different events and activities from ropemaking to making your own compass. More information can be found on the museum's event page.
Follow in the footsteps of James Cook and discover a world of voyages. Can you name all four of Cook's ships?
Whilst you're here, it's worth popping to The North Yorkshire Gallery – a spectacular art galley, showcasing the very best of Yorkshire.
Opening Times: 9:45 – 17:00 (2 April – 31 October) and 10:30 – 15:00 (12 Feb – 1 April)
Price: £7.50 for adults | Children go free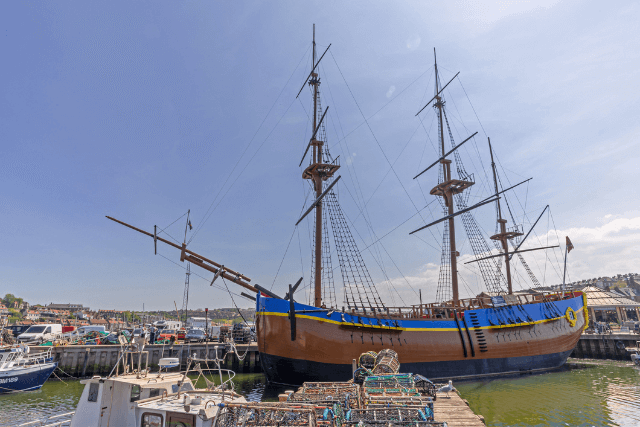 5. Practice Your Knot Tying Skills at the Endeavor Experience
Grab your skipper's hat and climb aboard the HM Bark Endeavor and discover the world of Captian James Cook and his trusty crew.
HM Bark Endeavor was commissioned by the Royal Navy in 1768 to embark on a voyage of scientific exploration. This magnificent replica features interesting exhibitions and interactive displays. Find out what happened when the ship ran aground on the Great Barrier Reef and practice your knot-tying skills at the Nautical Knot display,
Feeling peckish? Why not tuck into some hearty food at the Orlop Bar and Grill, complete with children's menu for the little sailors!
Opening Times: Tuesday to Sunday 10:00 to 17:00 (last admissions at 4pm)
Price: Adults £5.00 | Children (U16) £1.50 | Children (U3) Free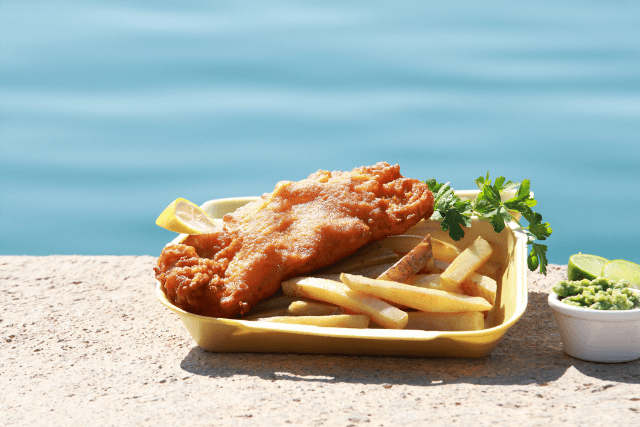 6. Explore the Harbour with some Tasty Fish and Chips
If there's anything that beats ice cream by the beach, it's a hearty tray of fish and chips. And where better to enjoy them than the stunning Whitby harbour? Take a walk up to the East Lighthouse and you'll soon be amazed by the mesmerising sea views that stretch before you. Sunsets from here are absolutely spectacular too.
When it comes to choosing the best fish and chips in Whitby, you can't really go wrong with Trenchers. With thousands of glowing reviews, this excellent eatery has even been crowned the 'UK's Best Fish & Chip Restaurant'. Given its popularity, there may be a small queue – but the wait is always worth it.
Opening Times: 11:30am – 8:30pm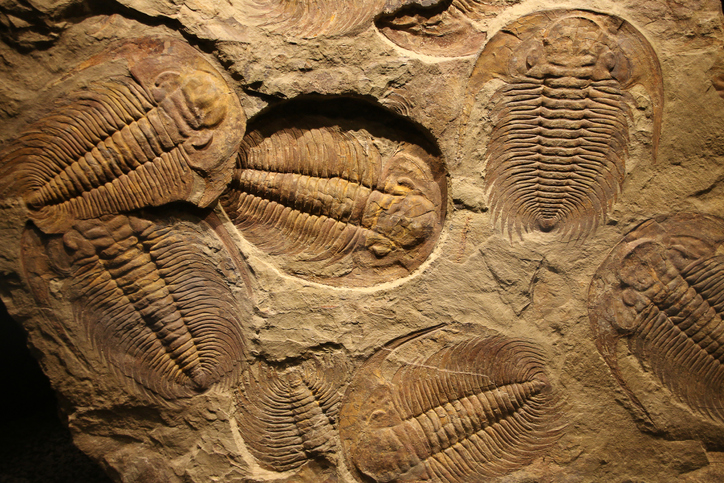 7. Find the Fossil Collection at Whitby Museum
The Whitby Museum is filled with all sorts of treasures, from model ships to local fossils. For those interested in the maritime heritage of the town, you'll find plenty to discover – including the origins of Captain James Cook, the local whaling history, and the Scoresby Archive.
Keen geologists are well catered for, and the Kirkdale Cave exhibit is well worth a look. This cave, set between the towns of Kirkbymoorside and Helmsley, contained the remains of animals that can no longer be found in Britain. From bison to rhinoceros, it was established that these bones had been brought into the cave by hyenas during the ice age.
Opening Times: Tuesdays to Sundays 10:00 – 16:30 (last admission at 16:00)
Price: Adults £7 | Children Free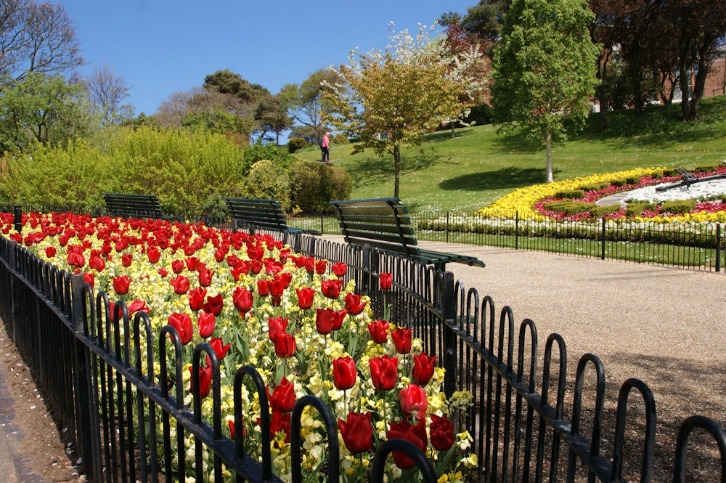 8. Play in Pannett Park
If the sun is shining, be sure to head over to the lovely Pannett Park. This beautifully maintained park is a great place to let the kids burn off some energy. With fossil paths to discover and a maritime-themed playground to enjoy, playing in Pannett Park is one of the best free things to do in Whitby for families.
Keep your eyes peeled for the life-sized replica of a crocodile, the monkey puzzle tree and the floral clock!
Price: Free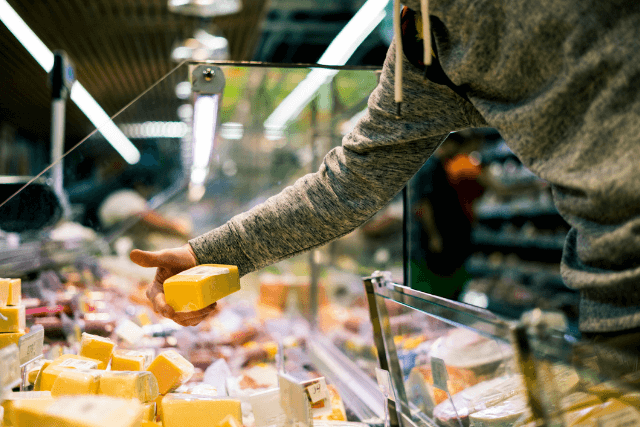 9. Pick up a Locally Sourced Treat from The Whitby Deli
A delightful deli, full of all the tasty treats! A trip to The Whitby Deli is a must whilst ticking your way through the best things to do in Whitby for families.
From fabulous coffee to freshly baked goods, the deli prides itself on its locally sourced goods and supporting local brands.
The modern deli offers a fantastic selection of vegetarian and gluten-free produce – so whether you're looking for a tasty treat, some essential groceries, or a delicious meal, The Whitby Deli is the place for you.
Opening Times: 09:00 – 16:00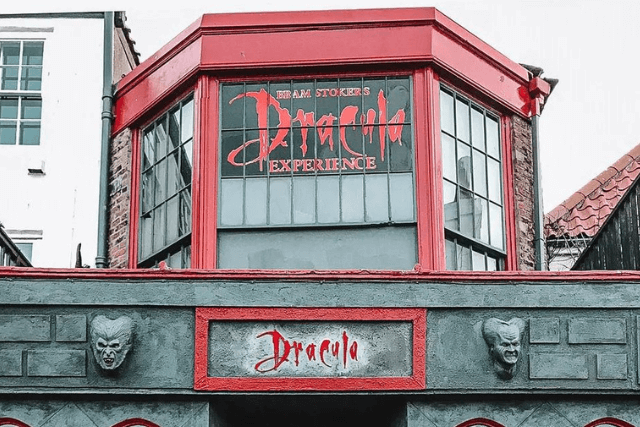 10. Discover the Dracula Experience
One for the older kids! A unique tour through the Dracula story and it's connection to Whitby, the Dracula Experience is an adventure you won't forget.
With animated scenes, electronic special effects and live actors, you'll walk through the scenes of Bram Stoker's classic novel.
Please note: This tour is not recommended for under 5's.
Opening Times: 09:45 – 17:00. The live actor is only featured during peak times and school holidays.
Price: Adult £5.00 | Child £4.00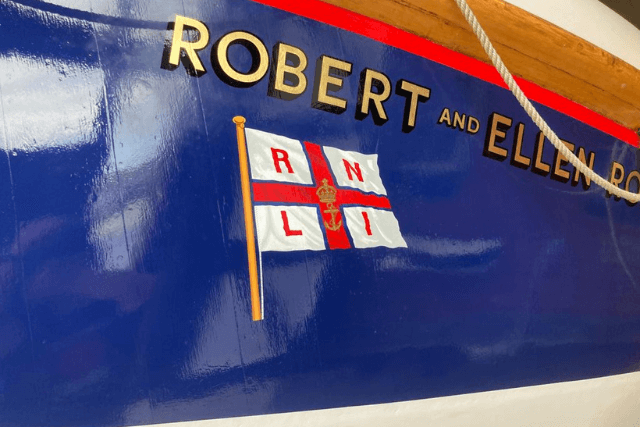 11. RNLI Whitby Lifeboat Museum
The Royal National Lifeboat Institution is the charity that saves lives at sea and relies upon donations to undertake its 24/7 search and rescue service. RNLI Whitby Lifeboat Museum was once a busy lifeboat station and the scene of many dramatic rescues over the ages.
The museum shares the history, bravery and sacrifice of Whitby's volunteer lifeboat crews of the past, while celebrating the work that the RNLI still carries on to this day. It displays some unique and moving artefacts linked to rescues in Whitby, as well as being the home to the last rowing lifeboat to be used in service by the RNLI, the Robert and Ellen Robson, which has been beautifully restored.
Children can have fun and learn how to be safe on the coast with their spot the dangers and lifeboat interactive area – why not come in and dress up as a lifeboat crewmember!
The museum also has a shop that stocks a great range of RNLI products, ideal for a gift to mark a holiday or as a present for a loved one.
During your visit, can you spot what item on display links a famous Whitby lifeboat rescue to another world-famous shipping disaster?
The museum has free admission and is located at the seaward end of Pier Road in Whitby.
Opening Times: Open from July 2022
Price: Free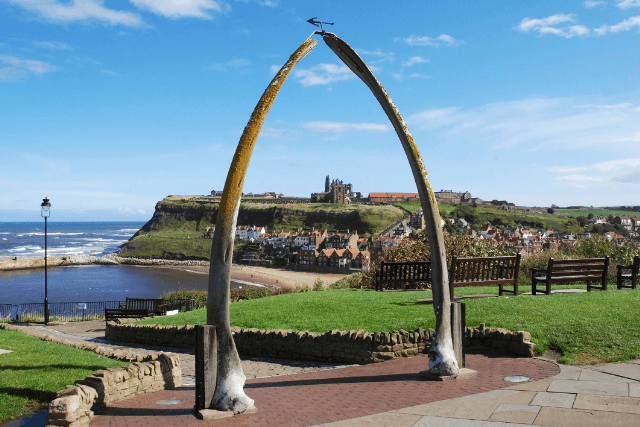 12. Take a Photo Underneath the Whitby Whalebone Arch
The Whitby Whalebone Arch is a replacement of the original arch which was put up in 1853 when the town was a centre for the whaling industry.
Today, it serves as a reminder of how the town's fortunes were built and is a good starting point for conversations about conversation and biodiversity.
Price: Free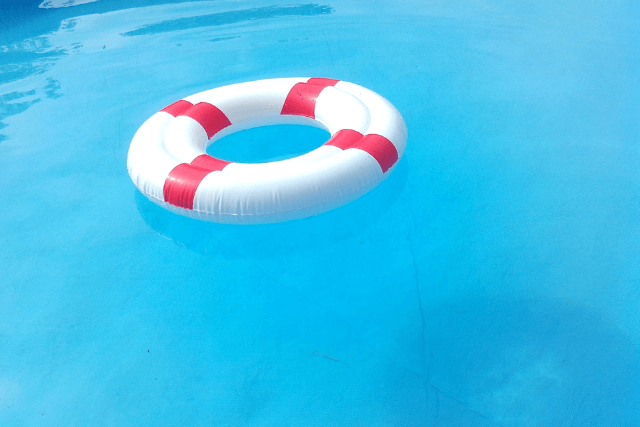 13. Take a Dip in the Whitby West Cliff Paddling Pool
High atop West Cliff Whitby, you'll find a charming paddling pool, the ideal place to enjoy a splash during those summer months.
The paddling pool is part of the West Cliff Royal Crescent Gardens. The gardens are also home to a putting green, crazy golf and leisure facilities. Making it a great place to explore with the kids.
Price: Free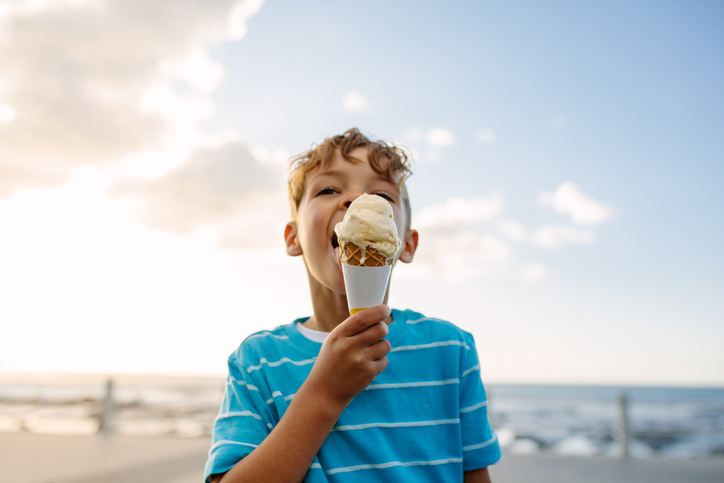 14. Enjoy an Ice Cream on Whitby Beach!
Ok, we'll admit it's not the most groundbreaking thing you can do in the town – but you just can't beat a proper ice cream on the beach! As you might expect from one of Yorkshire's best beaches, you won't have to look far to find a stall or cafe serving up fresh ice cream.
Minutes from the beach, Clara's is an excellent choice. Once an old ticket booking office on the pavilion, it's since been transformed into a tiny coffee shop. A firm favourite among the regulars, you can enjoy soft whipped ice cream while soaking up the lovely sea views!
Opening Times: 9am – 9pm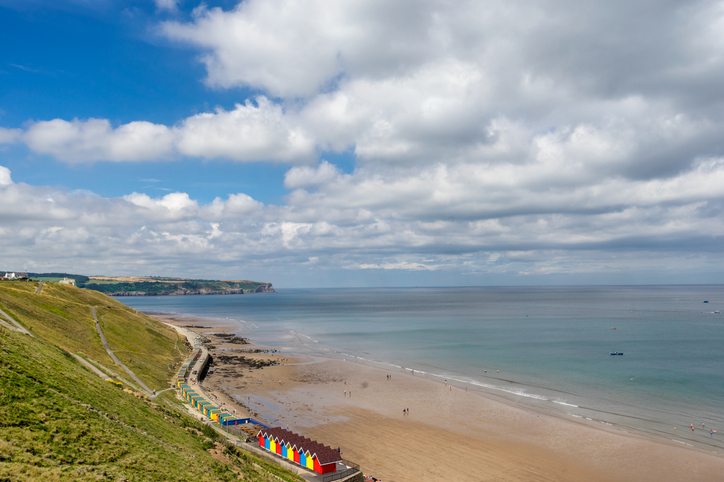 15. Find a Shell on Whitby Beach
A trip to Whitby wouldn't be complete without heading to the beach! Smell the salty sea air and listen to the waves as you walk along West Cliff Beach (also known as Whitby Sands).
Whitby Beach is a great activity for the whole family. Lifeguards are on duty during the summer months and there are colourful beach huts available to hire. The golden sand is ideal for sandcastle building – so don't forget your bucket and spade.
You can walk along the cliff and beach, keeping an eye out for fossils and colourful shells. Don't forget to collect a pretty shell from the beach and put it in your Treasure Chest!
Price: Free
---
Whitby Attractions Map
Here's the official Google Map for you to follow. Each family-friendly Whitby attraction from the Treasure Hunt Map can be found below. Follow along with your kids and experience the delights of Whitby.
---
After a day completing our Whitby Treasure Hunt and exploring the best free things to do in Whitby with families, you'll want somewhere to rest your head. Here at Yorkshire Coastal Cottages, we have a beautiful selection of luxury accommodation for you and the kids.
From dog-friendly holiday cottages to large self-catering accommodation, we've got you covered.
---
How to Enter the Competition:
For your chance to win a £500 holiday voucher, tickets to the Captain Cook Museum (2 adults and 3 children) and a £60 voucher for Trenchers, simply tell us where your favourite place is in Whitby and why.
Whether it's fond family memories, an idyllic spot, or anything in between, we want to know your ultimate family-friendly attractions in Whitby…
Head over to our Facebook and if you haven't already, please give us a like!
Comment on our post with your favourite attraction in Whitby (you can add a photo too if you want!)
If you'd like to let friends and family know where to visit in Whitby, you can also share the post!
Good Luck from all of us at Yorkshire Coastal Cottages!
For full terms and conditions please click here.