Journal
The 7 Best Places for Holiday Letting on the Yorkshire Coast
Interested in holiday letting on the Yorkshire coast?
Whether you are interested in buying a property with the intention of holiday letting or are thinking of turning your second home into a holiday let, we give you a rundown of the top 7 places for holiday letting on the Yorkshire coast with our guests.
Latest research shows that summer staycations in the UK will reach a 10 year high in 2021 and its expected the domestic market will fully recover by 2022, when it will reach an estimated £15 billion in revenue.
So now is a great time to take that first step into holiday letting, and we are here to help every step of the way!
1. Whitby
Whitby is one of the most picturesque spots in Yorkshire and England, and is also home to our main office. Whitby is a traditional seaside town with cobbled paths, a good selection of restaurants and bars, and many local craft shops.
Whitby is most known for its links to Bram Stoker's Dracula. Every year they hold an annual celebration of their gothic culture with The Whitby Goth Weekend. The town also has links to Captain Cook where he is immortalised with a monument on the west cliff and you can find our more about his links to the area by visiting the Captain Cook memorial museum.
---
2. Sandsend
Just 3 miles north of Whitby is the stunning village of Sandsend. If you are looking for a quaint, seaside retreat then this place could be for you. One of the highlights of Sandsend is the beach, its perfect for a family day out with the kids exploring all the beach has to offer.
Its also a great place for you keen cycling and walking enthusiasts with coastal walks and cycling routes aplenty.
---
3. Filey
Filey is a seaside town between Scarborough and Bridlington on the North Sea coast. Its known mostly for its rich fishing history as well as its award winning beach and draw dropping scenery.
Much like Sandsend, Filey is a much quieter seaside resort, perfect for those looking for that perfect rural, seaside property where you and your guests can escape from the hustle and bustle of daily life.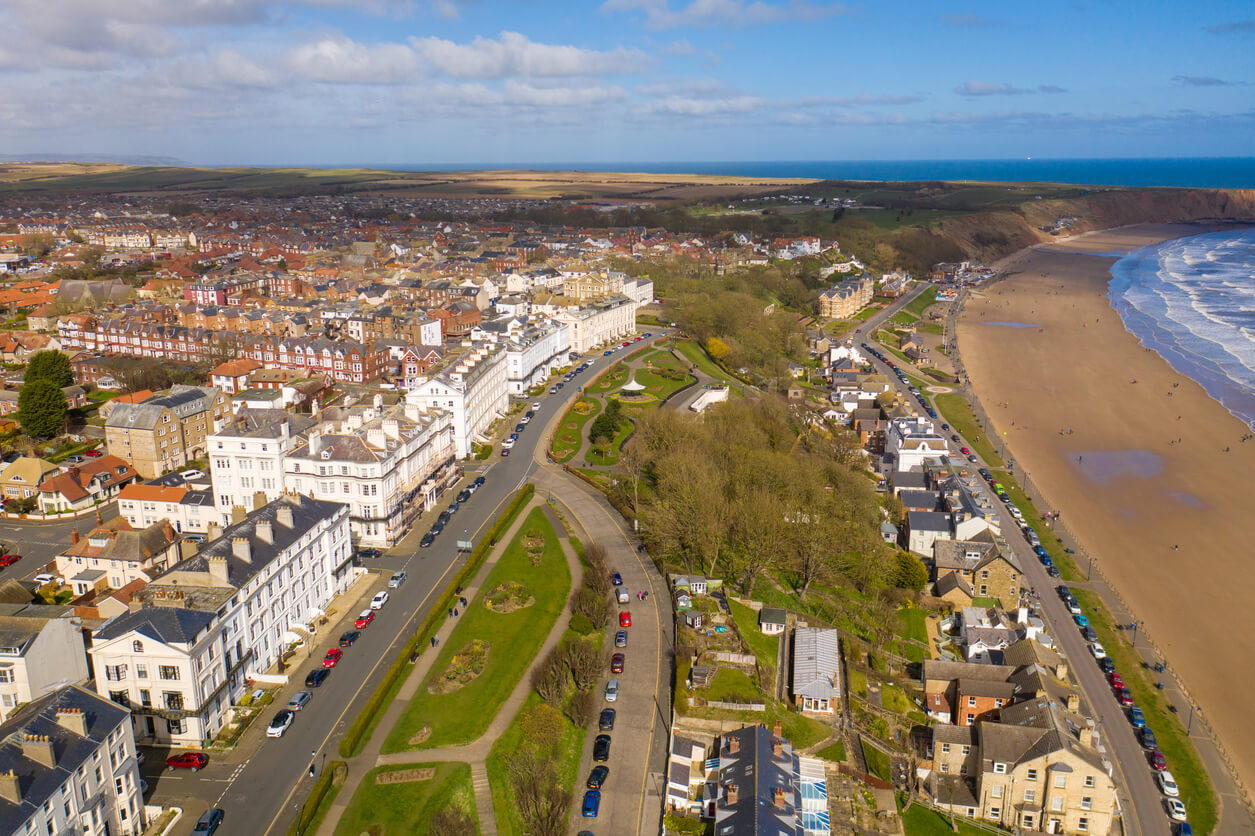 ---
4. Robin Hood's Bay
Robin Hood's Bay is a picturesque, fishing village located on the heritage coast within the North York Moors National Park. Its known for its cobbled streets and winding paths.
Located just a shirt drive from the ever popular Whitby and Scarborough makes Robin Hood's Bay and ideal base for exploring all the Yorkshire coast and North York Moors has to offer.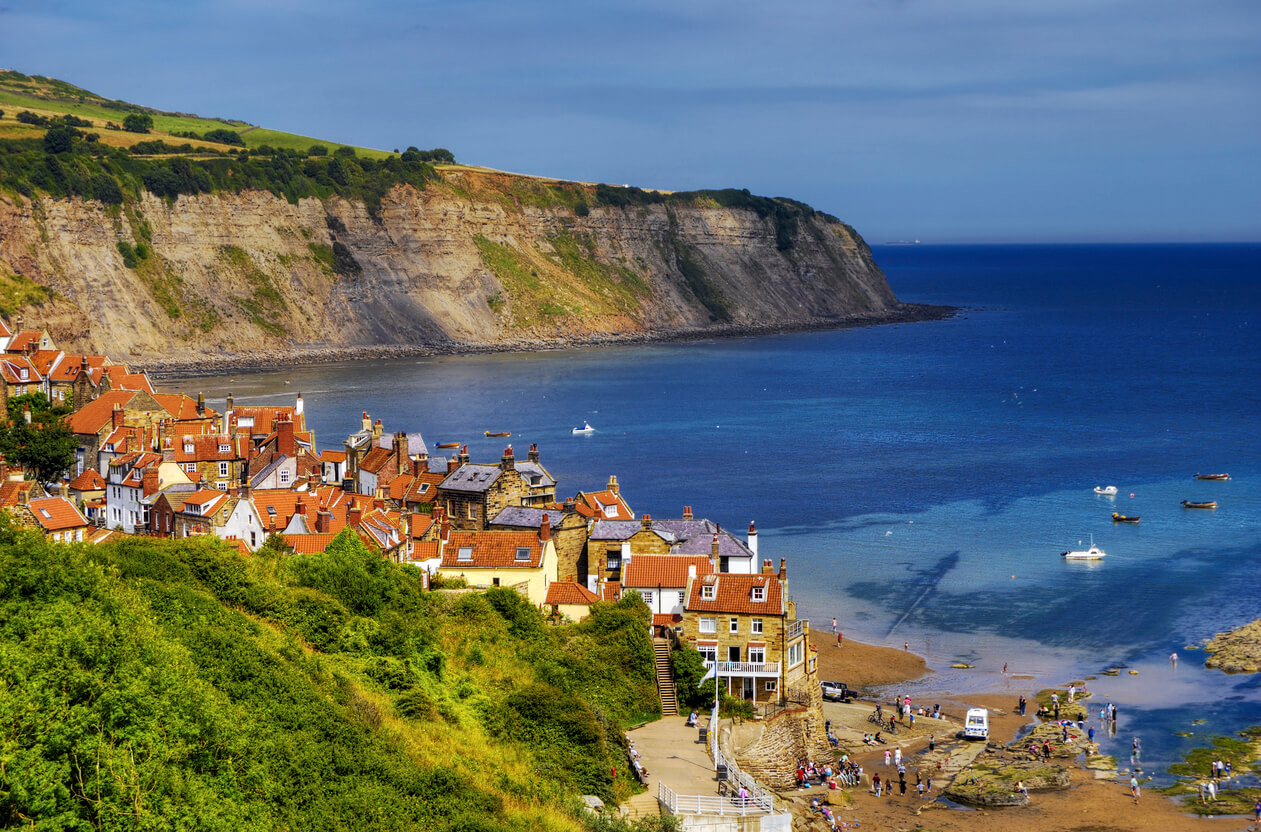 ---
5. Runswick Bay
Located just a few miles north of Whitby is the glorious seaside village of Runswick Bay. Its popular due to its white sandy beach which was nominated as 'Britain's Best Beach' in 2020 by The Times, dozens of glorious coastal walks and its picture postcard location.
Interesting fact: Cars are NOT allowed in the actual village of Runswick Bay, there is car park where you can leave your vehicle to further explore the narrow, winding streets of the bay.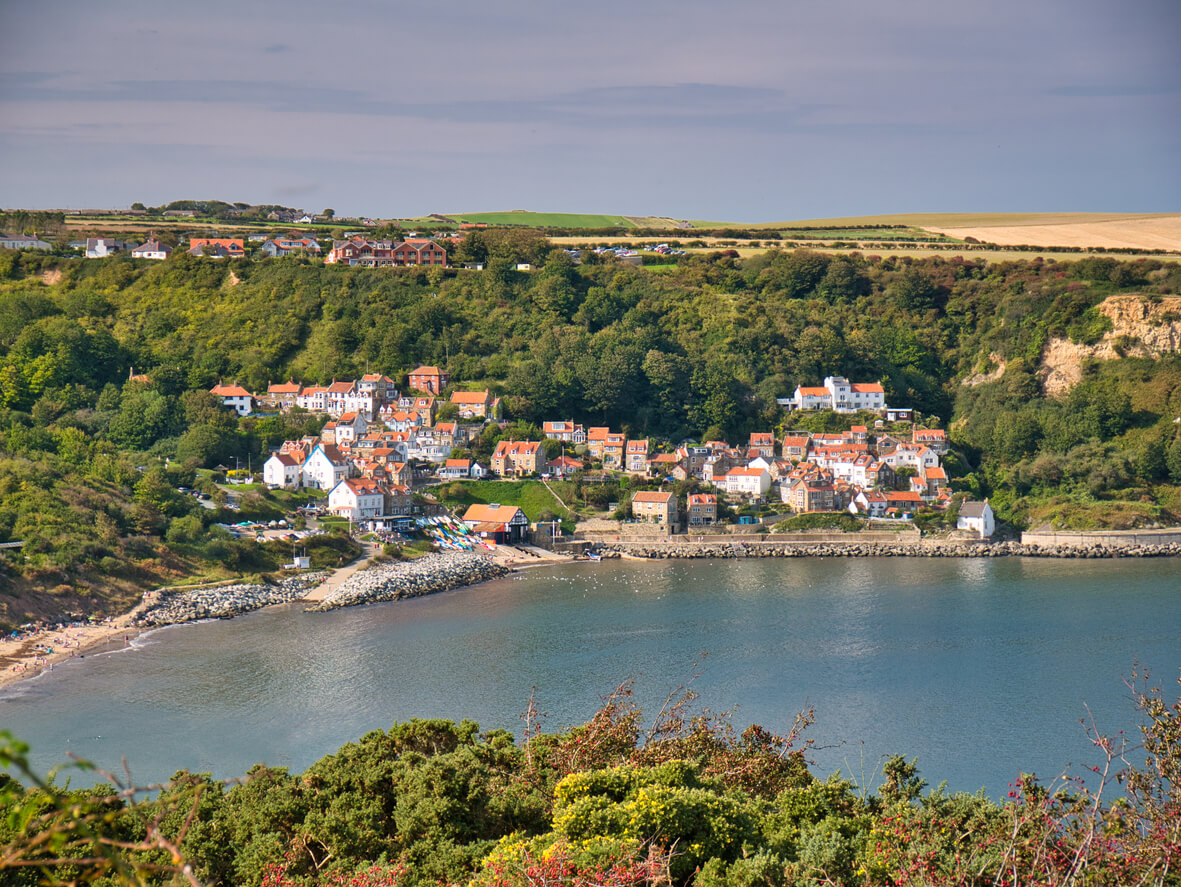 ---
6. Scarborough
One of the most recognisable names on the Yorkshire Coast, Scarborough is one of the largest towns on the coast and is widely recognised as the UK's first and original seaside resort, welcoming visitors for over 360 years!
Scarborough is home to some stunning coastline, vibrant promenade, family friendly beaches, countless attractions and much more.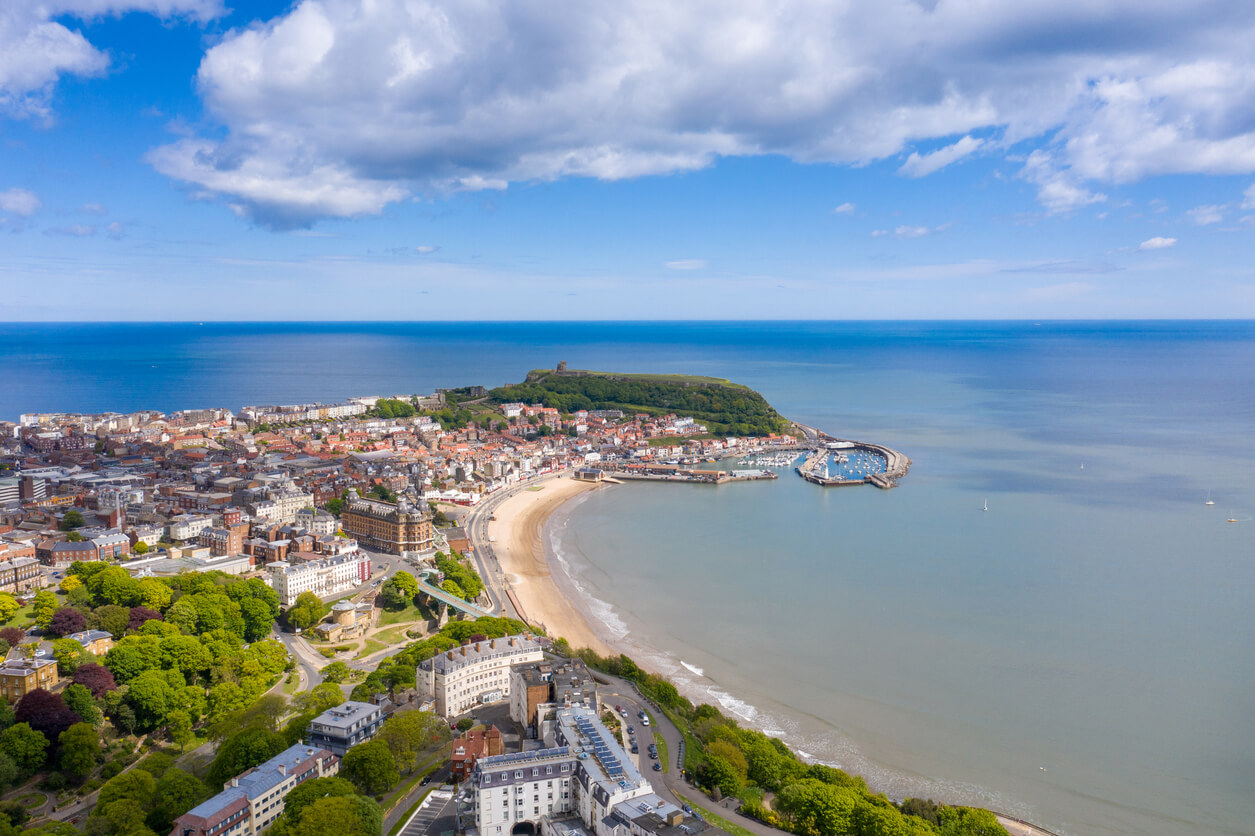 ---
7. Staithes
Staithes is a gorgeous, fishing village located on the Yorkshire coast, just a short drive from Runswick Bay and Whitby. Its name comes from an Old English word for a landing place. Locals never call it 'Staithes', they refer to it as "Steers".
Its beach is sheltered by the rocks and piers so you don't have to worry about rough seas and your little ones. Much like Whitby, its steeped in maritime history with links to Captain James Cook as he lived here until 1746. From here you can explore the Esk Valley and North York Moors park as well as enjoy a plethora of watersports along the Dinosaur coast.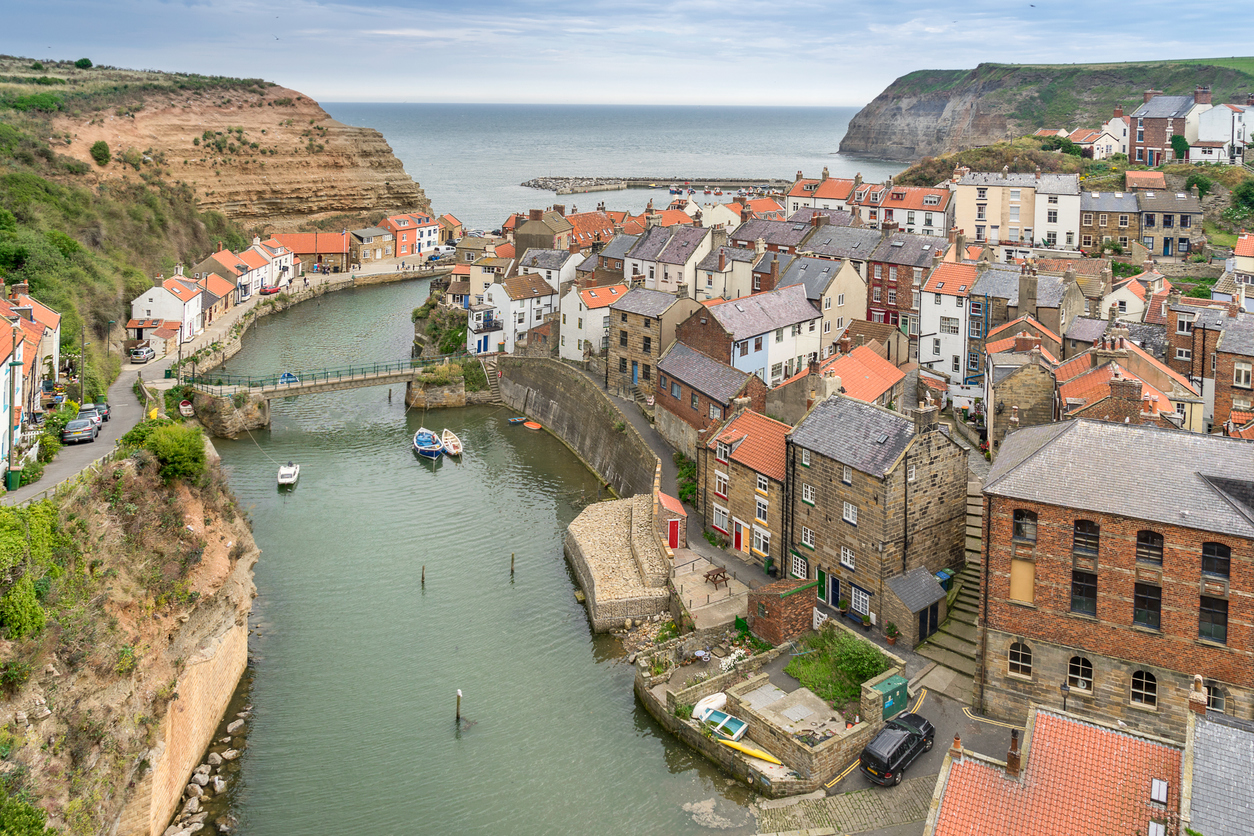 *At the time of publishing (09/06/2021), Yorkshire Coastal Cottages has taken all reasonable care to ensure that the information contained in this article is accurate. However, no warranty or representation is given that the information is complete or free from errors or inaccuracies. Customer search data is based on internal data unless stated otherwise.